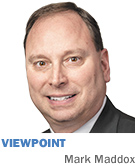 Indiana has a big problem. It is now widely viewed as one of the most intolerant states in the union. Like the Deep South during the Civil Rights era, with its fire hoses and police dogs, Indiana is now metaphorically seen as turning our hoses and dogs against the pressing civil and human rights issues of today involving the LGBT community and Syrian refugees. How did we get to this bad reputation?
It started with the efforts of the religious right lobby to pass a state constitutional amendment banning gay marriage. After many years of lobbying, and lots of time and effort to comply with the necessarily cumbersome constitutional amendment process, these crusaders were on the doorstep of success when the U.S. Supreme Court stepped in and said that anti-gay marriage laws and state constitutional amendments were barred by the U.S. Constitution, and Americans have the right to marry whomever they want, regardless of whether one's intended spouse is of the same or opposite sex.
Members of Indiana's religious right lobby were furious. Lots of time and resources had been expended on their now-failed efforts, and they wanted something to show for it. And they proposed the Religious Freedom Restoration Act. Our Republican-controlled Legislature and Gov. Pence were all too happy to throw these lobbyists a bone and endorse RFRA, even though many pragmatic and reasonable voices from our business, religious and other communities warned Pence against supporting it.
But the greatest damage to our state was done by Pence on a Sunday morning talk show. Not only did Pence double down on his support for RFRA, but when given multiple opportunities by the ABC News moderator to state the obvious, he refused to say the simple words that, "In Indiana, it is wrong to discriminate against people based on their sexual orientation." Pence's failure to state his opposition to LGBT discrimination resulted in the entire nation rising up and demanding that Indiana fix RFRA. The damage was done.
RFRA taught us a lesson that should have been learned by Pence and others. We saw that making petty political deals to gain political favor with a part of one's political base can result in reputational damage to both Indiana and its governor that can last a generation. Apparently, that lesson was lost on our governor, as demonstrated by the Syrian refugee issue.
Pence's response to the tragedy in Paris—to close the state's borders to Syrian refugees—was pure political opportunism. No meaningful due diligence could have been done by Pence on existing Syrian and other refugees already relocated to Indiana, their lack of criminal problems, or the very detailed process the U.S. government goes through, sometimes taking one to three years, before Syrian refugees are cleared to go to Indiana.
And then the predictable national news stories aired that a Syrian family of four that was being sponsored by Catholic Charities had been rerouted from intolerant Indiana to Connecticut. What if the mayor of Bethlehem had acted like our Mike during the Roman census in year zero? Then baby Jesus would have been born on the side of the road without the Nativity scene.
In my Catholic school upbringing, I was taught that one of the essential tenets of faith is the Golden Rule that includes "loving thy neighbor as thyself." Since Pence is vocal about his Christianity, he must purport to subscribe to this same tenet. But you don't see it in the way he governs.•
__________
Maddox, a former Indiana securities commissioner, is managing partner of Maddox Hargett & Caruso.
Please enable JavaScript to view this content.