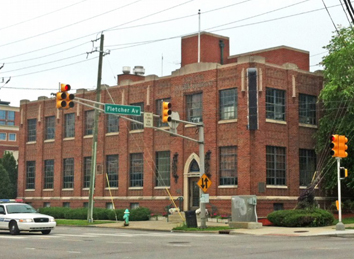 The two-story downtown building that for years housed Dunaway's restaurant has sold to an owner that plans to convert it to office space.
An entity of locally based OakBridge Properties LLC last month bought the historic building at 351 S. East St., near the entrance of the up-and-coming Fletcher Place neighborhood.
Jeff Dunaway, who opened the upscale restaurant in 1998, began accepting bids on the 11,700-square-foot structure in June 2014—starting at $800,000. The building failed to generate any interest at that price.
Partners of OakBridge declined to divulge what they paid for the building or how much they plan to invest in it. Interior renovations should begin early next year, said John Sweet, who along with Will Zink, operate OakBridge Properties.
Plans call for opening the building's chopped-up space. OakBridge aims to attract a single office user.
"It's got fantastic bones," Sweet said. "We love the history of the building and we like the location."
The structure, which is on the National Register of Historic Places, includes numerous art deco features, including the floors, decorative plaster ceilings, stained glass and a wood-paneled room with a limestone fireplace.
It sits at the northeast corner of the intersection where East and South streets meet Virginia Avenue, which is ideal for an office tenant, said Rich Forslund, an office broker at Colliers International (formerly Summit Realty Group). Forslund and Matt Langfeldt are leasing the building for the new owner.
"It's at the front door of Fountain Square and everything that's taking place there," he said. "And obviously it's right there along the Cultural Trail as well."
Dunaway operated his restaurant in the building for nearly two decades. But it seemed too large to attract another eatery, said Bill French, a retail broker at Cushman & Wakefield who represented Dunaway in the sale.
"That doesn't seem to be the profile these days—a big restaurant," he said. "We're talking 11,000 square feet plus a patio on the top floor. It was really a big operation."
Dunaway opened his restaurant after leaving St. Elmo's Steak House as a co-owner. But as more eateries opened in the heart of downtown, Dunaway's fell out of favor. It closed late last year.
Dunaway bought the building in 1998 from the Historic Landmarks Foundation of Indiana, now Indiana Landmarks, which purchased it in 1995 to assure its preservation.
The building was constructed at 435 S. Delaware St. in 1930 to house the offices of Indiana Oxygen Co. The business vacated the property in 1991 and moved to the northwest side.
To make way for an Eli Lilly and Co. expansion, the foundation and financial backers moved the 735-ton building in 1995 from 435 S. Delaware St. to its current location.
OakBridge's purchase of the Dunaway's building is the company's second acquisition and keeps its focus on rehabbing historic structures, Sweet said.
The company, formerly called Zink Architecture & Development, bought the dilapidated building at 720 N. College Ave. in August and is developing it into restaurant space.
Restaurateur Mike Cunningham, who operates Mesh, Bru Burger and Union 50, has agreed to occupy it. The restaurant will be called The Livery, in an ode to the building's original use.
Construction should start in a few months, Sweet said.
 
Please enable JavaScript to view this content.