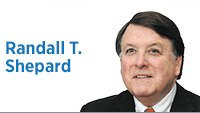 During a season when we often pause to express gratitude, Indiana can give special thanks for Lilly Endowment's recent commitment of $100 million to 14 cultural institutions. The endowment's action will enrich our civic life. And if you haven't thought about its economic impact, think again.

Foremost and easiest to see is the transformative effect on our collective civic life. Even for the receiving organizations that have endowments, gifts of $10 million or $7.5 million represent some of the largest gifts in their history. These funds will sustain the long-term viability of the largest enterprises and empower them to push forward on new initiatives.

The Indianapolis Symphony Orchestra, for example, back on more solid financial footing as the result of extraordi nary efforts by Martha Lamkin and others, will use the grant to undergird the pension plan for its musicians and to launch a technology program enabling audio and video streaming of select performances at Hilbert Circle Theatre.

Some of the endowment's financial commitments will produce visible results statewide. Indiana Landmarks, for example, hopes to use its grant to extend the reach of its regional offices, through which Landmarks rescues significant places throughout the state, revitalizing large cities and small towns alike.

Most transformative, though, will be several of the commitments to organizations with solid and inventive programs but little or no endowment. Indiana Humanities, so reliant on an annual federal grant, will be able to build its statewide programs. The income from an established endowment can go a long way toward burnishing its long-term future.

The commitment to the Indianapolis Symphony Orchestra International Violin Competition will advance an inventive enterprise that regularly leads people in the world of music to focus on Indiana. This international dimension, also evident in several other grants, is certainly part of the economic picture drawn by the endowment's initiative.

Expanding that reach requires us to do a better job of training and attracting talent—to use the helpful new formulation from Jamie Merisotis of Lumina Foundation. Millennials focus especially on the quality of life in places they think they might like to work, and building the state's cultural base can help Indiana commerce and industry hold and attract the best talent.

Finally, this initiative should cause us all to renew our thanks for Lilly Endowment's role in matters that matter for Indiana.

We cannot celebrate too often, for example, the endowment's role in making Indianapolis what The New York Times recently called a "crucial hub for American sports." In that field, the endowment's commitment runs all the way back to committing $25 million to build a football stadium on the hope of attracting a football team.

This staying power has brought us a substantial roster of headquarters for amateur athletics associations, and events that run from the World Waterski Championships to seven editions of the Final Four to the Super Bowl. In addition to drawing international attention to the state and helping build our talent base, these activities have added billions of dollars to the state's economy over time.

Most charity, to be sure, begins with some defined objective, but Lilly Endowment's executive leadership and board have pursued this in a special way. Faithful to the founders' dreams, they have focused much of their purposeful philanthropy in fields like education, religion and community development toward building a better Indiana. I say, "Bravo." So say we all.•

__________

Shepard, formerly Indiana chief justice, now serves as senior judge and teaches law. Send comments on this column to ibjedit@ibj.com.