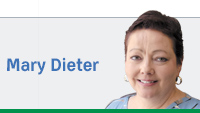 Two recent news stories would seem to have nothing to do with each other. But they represent cause and effect. Reaping what we sow.
It was reported recently that only 43 percent of the Indiana families who applied for their youngsters to attend pre-kindergarten were accommodated by the state's pilot program, which is providing $10 million in the five most populous counties. In Marion County, only 30 percent of the applicants won slots, although the city of Indianapolis kicked in $4.2 million to extend the program's reach.
Pre-kindergarten teaches children how to learn, piques their interests, instills discipline, stimulates their minds, and socializes them to working cooperatively with others. It also offers working parents a sound alternative to the neighbor lady who does little more for the hordes of kids she watches than plop them in front of a TV. Pre-K, like good day care centers, relieves parents of the constant strain of working while wondering if their child is safe.
Lawmakers, whose reticence made Indiana one of the last states in the country to fund pre-K, say they'll consider more funding but first want to see the results of a study tracking children who started pre-K in the fall through third grade in 2020.
The study is bound to show unsatisfactory results. Other studies have found that high-quality pre-K substantially boosts a child's readiness for school, but the benefits often decline between—you guessed it—kindergarten and third grade, the very period Indiana will be watching. In the long run, pre-K provides significant benefits to the individual child and to society. But Indiana's study will give Scrooge-like lawmakers a handy excuse to de-fund the program.
Juxtapose this information with the tragic story of Amanda Blackburn, the young businesswoman, mother and wife who was murdered in her home near Kessler Boulevard and West 38th Street last month. Two young men have been arrested and a third is under suspicion. The alleged shooter, who reportedly leaned in close to watch Blackburn bleed, is 18.
Not much has been written about the backgrounds of these young men, and they are innocent until proven guilty. So we can't point to some incident in their childhoods and link it to Blackburn's death.
But it's not far-fetched to recognize that the hopelessness and lack of opportunity for disaffected and disconnected youths often result in criminal behavior, such as burglaries, and escalates into violence. While sympathy might not be warranted, it's not wrongheaded to recognize the tragedy that three more lives—those of Blackburn's alleged assailants—are lost just as surely as hers is, and three more families are grieving like hers.
And it's no secret that Blackburn's murder, which has garnered so much attention because she was a pretty, white woman, is the aberration and that most of the violence that has been plaguing Indianapolis is black-on-black crime, incidents in which young men who cannot fathom a future that does not involve crime mercilessly prey on the weak and one another.
It's too simplistic to say a full-blown pre-K program will reduce crime, that Amanda Blackburn might be alive today if somebody had intervened in the lives of her murderers 15 year ago. But instead of wringing our hands in despair and throwing them up in defeat, maybe we ought to think about what we do and fail to do when children are small and malleable and hopeful about the future.•

__________
Dieter, a writer and an editor, is the former Statehouse bureau chief for The Courier-Journal and press secretary for Gov. Frank O'Bannon. Send comments on this column to ibjedit@ibj.com.
Please enable JavaScript to view this content.