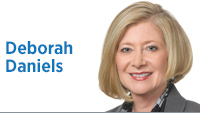 It's really not surprising that the City-County Council, in an 11th-hour, post-election/pre-inauguration move, is seeking to increase the salary of council members. An accompanying proposal to raise the mayor's pay unfortunately has been withdrawn.
It's true that our mayor is underpaid. The Indianapolis mayor is paid less than other mayors in much smaller cities around the state. Mayor Karen Freeman-Wilson of Gary, a city with admittedly significant challenges but far smaller than Indianapolis, makes nearly $130,000 as compared with Mayor Ballard's $95,000 base salary. The mayor of Fort Wayne makes over $127,000. Even the mayor of Westfield (population 30,068) makes $108,000. Mayors of other large cities in the Midwest earn as much as $50,000 more than Ballard.
Why do we pay the mayor of the country's 14th-largest city so little? Because voters don't like to see public officials increasing their own salaries; nor do they like the tax increases potentially needed to cover the cost.
When Dick Lugar was first elected to the U.S. Senate in 1976, his staff was stunned by the gamesmanship surrounding pay raises. The rule of thumb, according to veteran staffers for other senators, was, "Vote no and take the dough." In other words, act as though you are opposed to raising your salary; but don't be so foolish as to turn down the money when the measure passes.
The anti-tax-increase phenomenon plays itself out in nearly every public scenario. The Indiana Toll Road, before the lease deal struck in 2006 with a consortium that paid the state $3.8 billion, was crumbling along with other roads throughout the state. Why? Because the General Assembly was afraid to anger taxpayers by increasing taxes or fees to improve maintenance of the road. In fact, the state was actually losing money, paying toll booth operators to collect tolls as low as 15 cents.
The low mayoral salary causes cascading problems: Not only is it difficult to attract talented people to run for mayor, but the low salary then makes it hard to attract people capable of handling difficult jobs within city government, who cannot be paid more than the mayor.
Similarly, the council is likely underpaid. Council members in smaller jurisdictions such as Fort Wayne, Evansville and South Bend all make significantly more than the $11,400 received by city-county councilors.
The remaining question is: Why was the proposal put forward after the election? Why try to pass this ordinance one month before a new mayor takes office?
Easy. Mayor-elect Joe Hogsett has staked his public career as well as his recent mayoral campaign on frugality. (We all saw the smelly tennis-shoe ads.) His friends on the council didn't want to put him in the very awkward position of increasing his own pay. And if it isn't done now, we will face eight more years without a mayoral pay increase, and our mayoral salary will fall even further behind those of competitor cities. I'm in favor of this increase.
The stickier issue has to do with the council raises. While citizens can accept an increase in pay for future office-holders, they are generally uncomfortable when legislators vote to increase their own salaries. The better approach for council members is to vote for a council pay increase that won't take effect until after the next election.
The councilors could have addressed this issue before the November election, when their own re-election was not assured. Now, if they pass a raise for themselves, they should delay the effective date until after the 2019 elections. That's the fair thing to do.•
__________
Daniels, managing partner of Krieg DeVault LLP, is a former U.S. attorney, assistant U.S. attorney general, and president of the Sagamore Institute. Send comments on this column to ibjedit@ibj.com.
Please enable JavaScript to view this content.