The city of Fishers has agreed to take control of part of State Road 37 during the design and construction phases of a $124 million project designed to relieve congestion on the busy highway, local and state officials announced Thursday.
An updated plan was officially revealed Thursday morning at the Delaware Township Community Center. The project is expected to turn S.R. 37 a free-flow parkway with roundabout-style interchanges at 126th Street, 131st Street, 141st Street, and 146th Street.
Instead of turning the intersection at 135th Street into a roundabout, the new plan calls for converting it into a right-turn-only intersection with S.R. 37.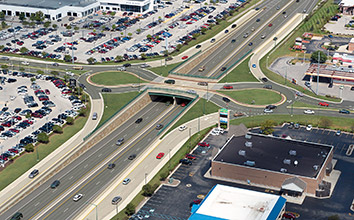 Mayor Scott Fadness said the Indiana Department of Transportation will relinquish control of the roadway in Fishers before construction bids are issued, similar to the way Carmel took over Keystone Parkway during its recent reconfiguration.
But, unlike in Carmel, the state will regain control of the road after construction is complete.
Fadness said he wanted the city to be directly involved with the contractors so local officials can resolve any issues that nearby businesses and residents experience during the process.
"We can mitigate the impact on them," Fadness said.
By taking over the divided highway, Fishers will be responsible for any road maintenance, snow removal and overall management.
Fadness, along with Hamilton County Commissioner Mark Heirbrandt and the governor's office, have been working on the proposal for six months.
Roughly 100,000 vehicles travel through and across that stretch of the highway daily, according to Hamilton County data, and four intersections from 126th Street to State Road 32 already have unacceptable delays.
"I don't think we need to spend a lot of time arguing whether 37 is a problem," Fadness said.
Construction isn't expected to start for another two to three years while an environmental study is conducted. The project itself could take another three years to complete after that. The project is expected to be completed in phases to minimize impacts.
"This thing is far from being done," Heirbrandt said.
The county had previously proposed a $243 million project covering six miles of S.R. 37 from Interstate 69 to S.R. 32 in Noblesville. While the Noblesville portion of the project isn't included in plans yet, Heirbrandt said those intersections will be included in the environmental study and reconstructed eventually. A downsized plan similar to the one revealed Wednesday morning was unveiled earlier this month.
The lengthy timeline has already caused concerns among businesses in the corridor that fear sales will drop significantly during construction because access will be limited.
"Those businesses are our top priority. The way we structured this deal was to best protect them during construction," Heirbrandt said. "We really had to push a lot to get local control. It was very important to us."
Heirbrandt and Fadness both promised to work with local business owners to compile specific concerns and address those issues as the project is designed and constructed.
The Fishers website will have a special form available for citizens to ask questions and request meetings.
Under the agreement, the state would contribute $100 million toward construction and Fishers and Hamilton County would each provide $12 million.
Heirbrandt said the county has debt that will be paid off in 2017 that will allow it to fund $12 million without raising taxes.
Fadness said the city will likely use a general obligation bond backed by property taxes and, if there is a tax increase, it would be minimal.
The Fishers City Council and Hamilton County Council both have to sign off on the funding.
"We in Hamilton County are sound in our fiscal management," Fadness said. "I think it's a wise investment for the long term."
Funding for the future Noblesville portion of the project will be split between Hamilton County, Fishers, Noblesville and the state. County Commissioner Christine Altman said the county and Fishers will each contribute $4 million, even though those intersections won't be in Fishers.
Altman said both cities and the county recognize that the entire corridor needs improvements and are committed to fixing it. 
More on the S.R. 37 project can be found here.
Please enable JavaScript to view this content.