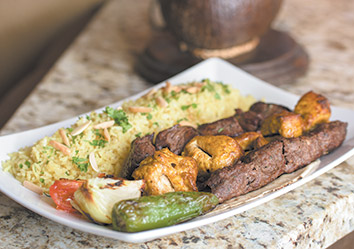 After my first lunch at Sahara (832 Broad Ripple Ave., 435-9244), the new Middle Eastern restaurant in the heart of Broad Ripple, I wanted to go back for dinner. And maybe for lunch the next day.
It's not just that I like Middle Eastern food. It's that I like quality Middle Eastern food—particularly when it's offered at a fair price, in comfortable surroundings, and served by a staff that seems to genuinely take joy in sharing its creations.
Small example on the last point: The Stuffed Grape Leaves ($4.99) were still being stuffed when we visited and so were not available. Instead, though, my party was offered a complimentary one from the previous day to give us a taste. This was a gracious goodwill gesture and a smart move for patron-building in an area crowded with dining choices. And the free, day-old sample was better than many I've paid for at other establishments.
As to our actual order, one of my dining companions called falafel the Middle Eastern version of okra—something you wouldn't eat unless you were starving. I disagree about both okra and falafel and happily ate his share of our Falafel appetizer ($2.99), which featured a sextet of crisp, tightly packed balls of chick peas, their density contrasting nicely with Sahara's deliciously pureed version of Lentil Soup ($2.99).
We ordered the Beef Shawarma Meal ($9.99), but it came out as a sandwich ($4.99) that featured layers of beef rolled in lavash, a soft Tandoori-oven-baked unleavened bread that offered a nice alternative to pita. It comes with fries, which doesn't seem right. Brides with Meat ($5.99) is not a reality show on Bravo. It's a pair of baked pita breads stuffed with minced beef and lamb and marinated with a surprising (and, to me, very pleasing) amount of spice.
"Grilled" isn't just a figure of speech here. You smell grilled meat when you walk in. The Sahara Mixed Grill ($16.99) trio-ed skewers of shish kabob, kufta kabob, and chicken tawook, grilled in-house over mesquite wood, garnished with grilled tomatoes and onion, and sided with basmati rice. Think of it as Sahara 101. (A version for five people, including lamb chops and a variety of other additions, costs $79.99).
Nothing is overdone in terms of presentation and garnish, but the plates are attractive and enticing. Food at Sahara has the feel of a native, home-cooked meal presented with care rather than a restaurant meal presented with a flourish. Now I only wish I had stayed at Sahara for the desert … I mean, dessert.•
Please enable JavaScript to view this content.