Familiarity often breeds pleasure when it comes to holiday music. But when an unfamiliar Christmas song—or a new variation on an old favorite—reaches your ears, it's a rare treat.

That's why, in search of lesser-known seasonal tunes and variations, I checked in with Bryan Fonseca, producing director of the Phoenix Theatre. A lifelong Christmas-music maven, Fonseca has amassed a collection of over 600 such discs, often incorporating them into his theater's "A Very Phoenix Xmas" shows (the latest, "A Very Phoenix Xmas X: O Come, Let Us Adore Us," runs through Dec. 20.)

Here are 10 of his favorites—along with some new cuts in his collection: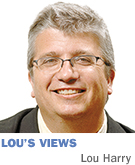 ■ "Little Drummer Boy"
Blind Boys of Alabama and Michael Franti

"I love this arrangement," Fonseca said. "A nice mix of traditional and modern." It can be found on the group's "Go Tell It on the Mountain" disc, which also contains guest talent ranging from Mavis Staples to Tom Waits and from Chrissie Hynde to George Clinton.

■ "Christmas in Prison"
John Prine

John Prine takes listeners behind bars with his trademark deceptively simple lyrics. Here, the inmates get "turkey and pistols/carved out of wood" while longing for a lost love. "A masterful storyteller and one of my favorite artists," Fonseca said.

■ "Fairytale of New York"
The Pogues

A rough-and-tumble 1987 song about the down-and-out denizens of a New York drunk tank, "The Fairytale of New York" is, according to Fonseca, "perhaps my favorite contemporary holiday song. It tells a modern story with a traditional flare. I love the romantic fool of a narrator who is completely out of touch with the practical and objective 'love of his life.' You know it's not going to end well." Personally, I wish the Scot Greenwell/Ryan O'Shea version in 2012's "Very Phoenix Xmas" could have been preserved for repeat viewing.

■ "Zan Vevede (O Holy Night)"
Angelique Kidjo

"The most atmospheric cover I've heard of this beautiful song," Fonseca said. The Grammy-winning singer/songwriter from the Republic of Benin performs it on the "World Christmas" album.

■ "White Wine in the Sun"
Tim Minchen

A deeply moving tune for non-believers and the people who love them, this song by the composer of Broadway's "Matilda" focuses on the feeling of being with family. "This song is both sentimental and scathing. Or just practical," Fonseca said. "A beautiful tune."

■ "Tacobel Canon"
Christine Lavin

No, that's not a typo. Urban folkie Christine Lavin adapted Pachelbel to sing the praises of guacamole, fajitas and other staples of the fastfooderie. "We used the song three or four times in our holiday show," Fonseca said. "It's clever and completely faithful to the original tune."

■ "La Rama"
Luis Villegas

A Mexican folk song about Mary and Joseph's quest to find shelter, it's usually sung by children going door to door. "The version is exquisite in both its simplicity and spirit," Fonseca said.

■ "Wonderful Christmastime"
Tom McCrae

■ "I Heard the Bells on Christmas Day"
Pedro the Lion

■ "We Need a Little Christmas"
Agesandages

These three selections, according to Fonseca, "are wonderful deconstructions of the original songs. They are slowed in tempo and completely stylistic"—although, when it comes to the last one, he added that "nothing beats Angela Lansbury and the original recording of 'Mame.'"


And some newcomers to the Fonseca collection:

■ "Christmas in Tahoe"
Train

"Simple and straightforward."

■ "The Classic Christmas Album"
Sarah McLachlan

"Classy, great production values and warm."

■ "Christmas With Friends"
india.arie

"Absolutely worth the investment. A soulful evening of love and inspiration."

■ "A Sunshine Christmas"
KC and the Sunshine Band

"A dark and stormy mess. Very disappointing."

■ "It's a Holiday Soul Party"
Sharon Jones and the Dap-Kings

"Best purchase this year. A mixture of jazz, funk and R&B. Great, soulful arrangements. Snappy, dappy and makes me happy."•

__________

This column appears weekly. Send information on upcoming arts and entertainment events to lharry@ibj.com.