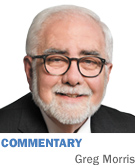 This is a column about local government in action. I've written on previous occasions about trying not to get consumed with national politics. Most of the time, government actions close to home affect your life more. And on the local level, you certainly have a better opportunity to affect an outcome, IF you get involved early enough in the game.

Here's an example. A concerned neighbor posted an alert on the Nextdoor Bridgewater website that a public meeting was being held that evening regarding a proposed change to the corner of 146th Street and Gray Road in Westfield. A Goodwill retail store is proposed for that corner. It was suggested that, if residents had concerns about the project, they should voice their opinions at the public meeting.

I jumped on the city of Westfield website and figured out there was, in fact, a First Advisory Plan Commission meeting starting at 7 that evening in Westfield City Hall. The Goodwill store item on the agenda involved a request for an amendment to the Bridgewater PUD District Ordinance to allow a discount store, with an excess of 10,000 square feet of gross floor area, to locate within the Bridgewater Marketplace retail center.

In my two years as a Westfield resident, I had never been to a Planning Commission or City Council meeting, so I thought this was the time to make that happen. When I arrived, I was pleased to find the commission members were organized and professional and started their business on time. So, I was thinking, this shouldn't take long.

The first two items of business were dispatched in short order, and then came the first public hearing of the evening. MI Homes was petitioning for a change of zoning of about 35 acres at the northeast corner of Oak Road and 161st Street to allow 53 homes to be built in a new development called Tamarack. This was the second attempt for this request; the first one was forwarded to the City Council earlier this year with a 5-2 negative recommendation.

Many folks from surrounding neighborhoods are strongly opposed to this project, and they packed the house to voice their concerns for the second time. About 16 or 17 people spoke, and when that portion of the meeting finished, it was 8:30. I looked at the rest of the agenda and noticed there were nine more public hearings to go. My agenda item of interest came up just before 10.

It started with a short presentation by attorney Joe Culver, who represents the Bridgewater Marketplace project. A neighborhood meeting was held the previous Friday to answer questions. I don't dispute that "notice" of the meeting was properly given. However, I find it interesting that I live 0.8 of a mile north of the site and was not given notice. Nor were the majority of Bridgewater residents. That lack of notice was a common concern voiced during the public hearing.

In any case, after researching the proposal and considering all factors, I'm opposed to the petition. My concerns are traffic-related, due to the large amount of building and development under way in this primarily residential area. I also think the petition violates the spirit of the original zoning for "light commercial" in Bridgewater Marketplace, which doesn't allow for large-format retail stores such as the one proposed by Goodwill.

I say this with no disparagement to Goodwill, which is a fine organization with an important mission I have supported for many years. And I understand Kite Realty Group's interest in leasing the space. But Goodwill has two retail stores less than four miles from this location, a short six- to seven-minute drive to either one. I suggest using 10,000 square feet or less, as current zoning provides, or passing on the project.

My advice to residents of Bridgewater and other surrounding neighborhoods with similar concerns is to get yourselves organized like the Tamarack group before this petition goes to the Westfield City Council. Whatever happens with this project, at least I'm participating in the local government process. I hope IBJ readers will do the same when an issue of interest arises in their community.•

__________

Morris is publisher of IBJ. His column appears every other week. To comment on this column, send e-mail to gmorris@ibj.com.