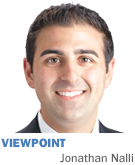 It's the fourth quarter in a transformative year for Hoosiers' health. In 2015, thousands of uninsured Indiana residents gained access to health care coverage through the expanded Healthy Indiana Plan. With more than 337,000 signing up, it's clear Hoosiers are motivated to get covered and, more important, they're taking a key first step toward better health.
As we progress through this year's health insurance exchange open-enrollment period—which began Nov. 1 and runs through Jan. 31—we can build on that great work. It will be up to Indiana's health care providers, employers, policymakers and civic leaders to not only promote awareness of the enrollment period, but also ensure individuals find the health insurance option that is right for them.
But coverage alone is no guarantee for a healthier Indiana, and our current methods of delivering health care aren't meeting the needs of those who need it most. The state consistently ranks near the bottom of U.S. rankings in terms of health indicators such as obesity, smoking rates and heart disease. And Marion County is listed among the lowest in our state in terms of health outcomes, ranking 74th out of 92 Indiana counties. Expanded access to health insurance is an important piece to address these areas of concern, but we need to do more.
Hoosier health care providers bear a special responsibility to respond to increased demand in a way that expands access and shifts the way we provide care. We must adopt a holistic, patient-driven approach—one that drives down costs and makes our system more navigable, not less.
Indiana's HIP program has cemented our status as a leader in health care reform, and it isn't our first achievement in health care. In fact, our state has a long and proud history of innovation in this regard—dating all the way back to 1881, when four Daughters of Charity arrived in Indianapolis with $34.77 to create St. Vincent Hospital. These women introduced a culture of care for all Hoosiers, and if we are committed to meeting Indiana's health care needs, it's a culture to which we must return.
As a member of Ascension, the nation's largest not-for-profit Catholic health care system, we follow the call to deliver health care that works, is safe and leaves no one behind. We do this by focusing on programs that help people stay healthy, breaking down barriers to innovation and creating new methods to deliver care. That's why St. Vincent is partnering with MissionPoint—a clinically integrated network of physicians, hospitals, outpatient facilities, nurses and supporting care givers—to move beyond episodic care to prioritize prevention and emphasize the whole continuum of our patients' needs.
St. Vincent is also committed to helping Hoosiers navigate the state's insurance exchange and Healthy Indiana Plan. Indiana residents can call (844) 788-7526 to schedule an appointment or have our specialists help them through the enrollment process over the phone. And more information can be found at stvincent.org/enroll.
Moving the needle will demand others step forward to join us in addressing costs and improving the quality of our state's health care. We need a focused effort from providers, employers and community partners to finish out the fourth quarter on a strong note and ensure as many Hoosiers as possible take advantage of the opportunity to improve their health. The work doesn't stop there, but we have momentum on our side.•
__________
Nalli is CEO of St. Vincent Health.
Please enable JavaScript to view this content.