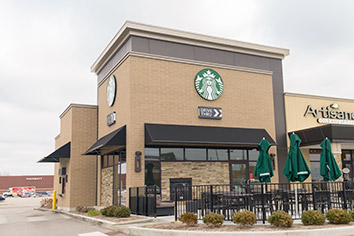 Starbucks is set to serve up something stiffer than a double shot of espresso at nine of its more than 70 Indianapolis-area stores.
The Seattle-based coffee giant is seeking alcohol permits to offer beer and wine at four Indianapolis outposts and five others in collar counties, beginning in March.
Introducing alcohol to local Starbucks stores is part of the company's national "Evenings" program launched in 2010 to boost traffic after 4 p.m., when sales tend to slow down. Stores in Seattle, Portland, southern California, Chicago and Atlanta were first to participate in the experiment.
The company kicked the program up a notch in August by adding 70 outposts across the country, bringing the total to about 100. Starbucks ultimately wants to expand "Evenings" to 2,000 U.S. locations by 2020 and expects the effort to increase its $16.4 billion in annual sales by up to 2 percent.

Delaney
"The inclusion of alcoholic beverages means that people will be purchasing more food items and will stay longer, and perhaps will have more than one drink while visiting," said Steve Delaney, a local retail broker at CBRE Sitehawk. "They may have one cup of coffee, but they might have two or three beers."
It's unclear how Starbucks selected the nine area locations for alcohol sales. The company so far is keeping a tight lid on the rollout and offered no details other than to acknowledge the permit filings.
"Just as each customer is unique, so are our stores, and we consider a broad range of products and experiences for each neighborhood," a spokeswoman said via email.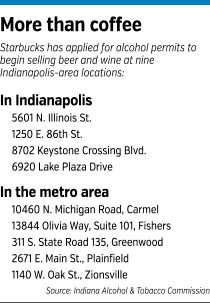 In Indianapolis, Starbucks has applied for permits for stores at 5601 N. Illinois St. in the Butler Tarkington neighborhood, 1250 E. 86th St. in Nora, 8702 Keystone Crossing Blvd. in the Fashion Mall, and 6920 Lake Plaza Drive near East 71st Street and Binford Boulevard.
Suburban outposts will be in Carmel, Fishers, Greenwood, Plainfield and Zionsville.
Outside central Indiana, applications are pending for shops in Columbus, Michigan City and Munster. Two stores in Fort Wayne and one in South Bend already have been approved by the Indiana Alcohol & Tobacco Commission to sell alcohol, according to Indiana State Excise Police.
Besides beer and wine, Starbucks' evening menu includes small plates such as bacon-wrapped dates, truffle mac 'n' cheese and artisan flatbread topped with artichoke and goat cheese.
Starbucks says its beer offerings are meant to reflect the tastes of a region, raising the notion that local outposts will sell brews from Hoosier craft brewers. Chicago locales, for instance, are stocked with ales from the hometown Goose Island Brewery, maker of 312 and other brands.
Starbucks also says it paid special attention to its wine menu, employing a small team of "sensory experts" who tasted more than 500 wines to determine the 10 best to feature on the Evenings menu.
Based on Starbucks' market research, offering alcohol was a natural, the company said in marketing materials. About 70 percent of Starbucks' customers drink wine, compared with 30 percent of the general U.S. population, while its patrons also are twice as likely to drink craft beer, research from London-based Mintel shows.
If the permits are approved, beer and wine likely will be available at Indianapolis-area Starbucks stores after 2 p.m. on weekdays and after noon on weekends.
Local developer PK Partners owns the 8,000-square-foot building on a Nora Plaza outlot on East 86th Street housing the store that is among those selected to sell booze.

Podell
Wes Podell, PK's senior vice president of development, said the addition of beer and wine could increase area traffic.
"It creates one more reason to get out to these shopping centers," he said. "[Starbucks is] such a proven brand, and [drinking alcohol is] an area that the Internet can't kill."
The challenge for Starbucks, however, will be to persuade customers to buy alcohol at the same place they get their morning cups of java.
But Starbucks isn't the only quick-service chain experimenting with booze. Taco Bell in September introduced its first alcohol-selling sites, in Chicago's Wicker Park neighborhood, and another in San Francisco near AT&T Park.•
Please enable JavaScript to view this content.