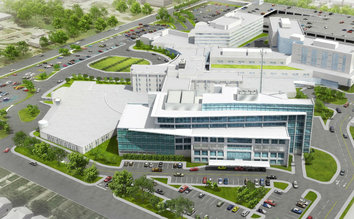 The Pence administration's decision to spend $120 million on a new psychiatric hospital represents a stark re-adjustment from the de-institutionalization movement of the past 30 years, which led the state to close seven of its 13 psychiatric hospitals.
State officials want to construct a $120 million mental health hospital on the campus of Community East Hospital in Indianapolis by 2018.
The 159-bed facility, called the Indiana Neuro Diagnostic Institute, will eventually replace the Larue Carter mental hospital, located in Indianapolis on Cold Spring Road, which the state plans to phase out of operation.
When open, the institute could serve 1,500 patients per year with such conditions as acute and chronic mental illness, chronic addictions, intellectual and developmental disabilities, traumatic brain injury and degenerative illnesses such as Alzheimer's disease.
But the new institute would also serve as a diagnostic hub for Hoosiers to get mental illnesses or addictions accurately diagnosed. Then the institute would provide telehealth consultations over the Internet to health care providers in each patient's community, to help them perform the ongoing care those patients often are not getting now.
"It's a big deal," said Stephen McCaffrey, CEO of Mental Health America of Indiana, which lobbies state government on mental health issues. "It would be a new way of providing care."
He emphasized that the state should not revert back to the days when patients with mental illness were "warehoused" at state psychiatric hospitals.
"The days of just putting people in a place where they would live out their lives because we didn't know what to do with them, those days are over," McCaffrey said.
But there is a need, he said, to improve how patients with mental health issues are diagnosed and treated.
"We've tended to provide the services that we had rather than the services that patients need," he said.
The Pence administration seems to agree. A feasibility study it commissioned concluded that the way the state has treated patients with mental illness since it began closing psychiatric hospitals in the 1980s is "failing."
"Now, 30 years after the initial closures of seven state hospitals, we have seen that de-institutionalization of the mentally ill population in Indiana has become 'trans-institutionalization' into expensive and less therapeutic environments," stated the introduction to the feasibility study, which was commissioned by the Indiana Family and Social Services Administration, or FSSA.
"As state hospital beds have closed, patients with chronic psychiatric disease and relapsing chemical dependency have moved to nursing homes, become homeless, been cared for in emergency departments and general hospitals and (most disturbingly) ended up in Indiana jails and prisons," the report added. "FSSA deeply desires to counter this failing model."
The study noted that roughly 6,000 inmates in Indiana prisons—about one out of every five inmates—have been diagnosed with mental illness. It also noted that Indiana has declined to 44th out of 50 states in access to mental health care, hospital services for the mentally ill and treatment outcomes.
The Pence administration did study what it would cost to renovate the Larue Carter hospital, which is located in a 1930s-era building acquired from the Veterans Administration in 1997. The Daniels administration decided to build a replacement facility for Larue Carter, with construction scheduled to begin in 2008. But the recession sidelined those plans, and they have never been revived.
The feasibility study concluded that it would cost $105 million to modernize Larue Carter, versus the $120 million cost of the new facility. It also said that being located close to a hospital focused on other health issues would be an advantage.
By locating the facility next to Community Hospital East, the state hopes the patients also can have their non-mental health needs addressed. Patients with mental illness often fare worse in other areas, particularly with such chronic diseases as diabetes.
"As the largest provider of mental health services in Indiana, we know firsthand the desperate need that exists for these services," said Bryan Mills, CEO of Community Health Network, in a statement.
The state said the institute will be the flagship hospital of its network of state-operated mental health facilities. That network currently includes six inpatient hospitals—in Indianapolis, Evansville, Richmond, Logansport and Madison—as well as 25 community mental health centers spread around the state.
"As outpatient care is voluntary, it is difficult to insure compliance, and severely ill patients frequently fail. It is then left to emergency departments or local jails to triage and arrange care for these impaired individuals," stated the state's feasibility study. "This challenge is exacerbated by the absence of a central, flagship facility which is able to effectively assess and triage patients to deliver the most effective treatment and provide adequate inpatient care. What is needed is a new model of care spearheaded by the proposed [institute]."
The state expects construction to begin in April and to finish in September 2018. It will pay for construction by selling 20-year taxable bonds.
 
Please enable JavaScript to view this content.