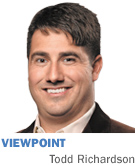 In my career, I think I've heard business leaders say, "People are our greatest asset" virtually every day. The problem is, I've seldom seen them back up that statement with meaningful actions.
But they had better do so soon, because the world is changing. The workplace of a few years into the future is going to look dramatically different from the one we've become accustomed to. Businesses that fail to keep up with this change will fail, while firms that invest in their "greatest asset"—by investing in a culture that will attract and retain top talent—will thrive and grow.
For some time, companies got away with paying lip service to investing in people, for a couple of reasons. First, employers had the upper hand in the hiring marketplace, so they dictated the terms of employment. Second, most businesses thought investing in people was synonymous with investing in tools.
Now the game has changed. The people entering the marketplace are calling more of the shots, and they're demanding a new kind of workplace.
I'm not the only one seeing this shift. A number of commentators have declared this the "decade of human capital," and the World Economic Forum recently said that talent, rather than financial capital, is the "key to innovation, competitiveness, and growth in the 21st century."
I see three key factors feeding this shift:
One, in our free-lance economy, talent has become borderless. Today, 53 million Americans—34 percent of the workforce—work as free-lancers, and it's predicted that, by 2020, half the talent required by businesses will not actually work for those businesses.
Second, we live in a mobile-centric, constantly connected world. The largest generation in the workforce—millennials—work differently, with 45 percent of them using smartphones for work purposes, compared with 18 percent of older generations.
Finally, hiring the best people won't help you succeed if you don't engage those people. A Gallup study found that companies with high employee engagement have 3.9 times the earnings per share than their competitors. That's a pretty tangible impact.
Simply put, this new workplace requires a new mind-set, one that might not come easily to conservative, traditional businesspeople, but one that must be embraced.
What will you see in this new marketplace? You'll see workers who seldom come to the office or who work for you only part of the time but still expect to be treated like employees. You'll also see companies embracing new, mobile-based forms of collaboration, and finding new ways to inspire and reward innovation. You'll see firms that accept social media as a tool rather than reject it as a distraction. And you'll see top firms crafting processes and technology—and even building buildings—specifically to adapt to this new workplace and work culture.
Most important, perhaps, you'll see firms that think of themselves not so much as "employers" as facilitators and conveners, creating places and platforms that allow people to do what they aspire to do. After all, we have to remember: When we talk about talent management, it's your employees' talent, not yours, we're talking about, and they're just loaning it to your company.
All these factors merge in a place we tend to call "culture," and it's something we often ignore when it's time to invest in our businesses. We can no longer do that and call ourselves leaders. We have to truly invest in our "greatest asset" by investing in the culture that attracts and engages them, then turn those assets loose to create value for us and our stakeholders.•
__________
Richardson, former executive vice president of administration at ExactTarget, is the entrepreneur-in-residence at FirstPerson, and founder and chief culture officer at Cadence Consulting. He can be reached at [email protected]
 
Please enable JavaScript to view this content.