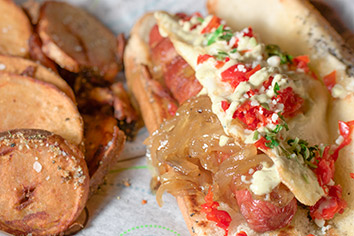 The reality is, transformations don't matter if you never experienced the original—which is a wordy way to say I never set foot in Chumley's, the Broad Ripple staple best known for its prime people-watching storefront seating.
I was never a Broad Ripple bar-hopper. Thus, I can't tell you with any authority how much is different now that Chumley's has become Village Tap Room (838 Broad Ripple Ave., 466-1555).
I can tell you, however, that Village Tap Room is, well, roomy. There's a lengthy bar, pool and shuffle tables and Golden Tee, and plenty of space between tables.
I can also tell you that Village Tap Room does basic bar food just fine while attempting, with some success, to step up its game.
The Chili ($4, $6), for example, is pretty much what you might make at home if you weren't in the mood to experiment but, instead, put a priority on meat, beans and heartiness. And the Chicken Wings ($8 for eight) are available with five sauces and, even though ours were a bit too heavily doused, still did the job.
Nachos ($8) feature a mound of chips with black olives, onion, tomatoes, jalapenos and queso blanco. Additions, at $2 each, include chorizo, smoked barbecue pork, and house-made guacamole. We went with the chipotle chicken, which seemed freshly shredded and effectively upgraded the dish.
You can also order locally made, Cajun/cheddar-flavored Just Pop In Popcorn ($6).
Puffy Tacos ($7 for two) do, indeed, feature deep-fried, puffy, flour tortilla shells. You choose the core innards from smoked barbecue shredded pork, chimichurri beef short rib and more (we chose chorizo). Filled with lettuce/cabbage, cheese, tomatoes and cilantro, they are sided with charred-chipotle and mango salsas that satisfy different tastes. Even better: On Tuesdays, they are only $2 each.
And I can also comfortably assert that the Tijuana Sunshine Dog ($9) is not for the faint of heart—or those with a heart condition. An all-beef dog wrapped in bacon featured caramelized onion, queso fresco, cilantro and peppadew pepper chowchow. Yet its flavor was dominated by roasted poblano cream cheese and its texture mellowed with an over-medium egg.
I haven't gotten to Village Tap Room on weekends when Jude Dowell, of the Citizen Hash food truck, serves up breakfast from 10 a.m. to 1 p.m.—which should be about when many Broad Ripple-ites are ready to head home.•
Please enable JavaScript to view this content.