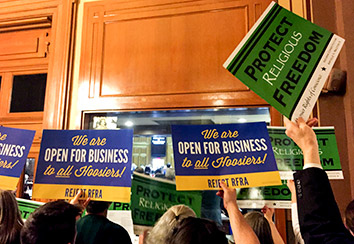 Indiana became the focus of a national debate over gay and transgender rights last spring when Gov. Mike Pence signed the Religious Freedom Restoration Act he had championed.
Pence said the law was important to protect people who "feel their religious liberty is under attack" but said he did not believe it allowed discrimination. The LGBT community vehemently disagreed, saying it would allow companies to refuse to do business with someone who is gay.
Legal scholars disagreed about which was true. But that didn't stop the debate from going viral, as many across the country accused the state of enshrining discrimination.
Fueling their fire were the law's most ardent supporters—including Advance America, which said the law would protect Christian bakers, florists and photographers from being "forced by the government to participate in a homosexual wedding."
After Pence signed the bill in a private ceremony with several leaders of anti-gay-rights groups, the backlash locally and nationally erupted. Officials from Angie's List, Salesforce and the NCAA spoke out against the law—as did Indianapolis Mayor Greg Ballard and several other companies and religious organizations. The issue heated up further when Apple CEO Tim Cook and NBA player Jason Collins condemned the law.
But the controversy reached a tipping point when Pence appeared on ABC's "This Week with George Stephanopoulos" in a confusing and confrontational interview. The governor several times dodged the host's question about whether it was now legal in Indiana to refuse service to gays and lesbians.
Shortly after, Pence supported a bill to "clarify the intent" of the law. The so-called RFRA fix said the law could not be used in court as a defense for discrimination.
But while the national backlash has died down, several grass-roots and business groups will advocate for LGBT protections in the state's civil rights law at the Legislature in January. Similarly, opponents of gay marriage plan to advocate against the changes.
Pence has not yet revealed where he stands on those proposals.
Please enable JavaScript to view this content.