The Indiana University Health hospital system will spend $1 billion to move the operations of its University Hospital to expanded and revamped facilities on the campus of Methodist Hospital, and to move its women's and childbirth services to the campus of Riley Hospital for Children.

That plan, announced in April, is designed to help Indianapolis-based IU Health save money in coming decades and to have facilities better suited to changes in health care that have sped up shifts in care from inpatient hospital facilities to outpatient facilities.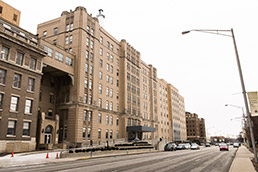 IU Health will move University Hospital's operations to the Methodist campus.
(IBJ file photo)
Also early in the year, the rapid pace of change spurred an attempt by nurses at IU Health's downtown hospital to form a union—which would have been the only one at a non-governmental hospital in the state. IU Health nurses complained they were forced to work short-staffed after IU Health laid off 726 people in late 2013.

But the union effort appeared to flag in the summer, and a vote that was once predicted to occur in April has never taken place.

The consolidation of the University and Methodist hospitals will occur slowly, over five to seven years. The plan still has some unanswered questions, such as the future location of the IU Health Simon Cancer Center.

The consolidation of the hospitals was long feared by staff at the IU School of Medicine, which put its University and Riley hospitals into a joint venture in 1997 with Methodist Hospital that was initially called Clarian. That joint venture renamed itself IU Health in 2011.

The man who spurred on that venture, Dan Evans, will hand the reins for its next chapter to a successor. Evans will retire in April 2016 and be replaced by Dennis Murphy, a hospital executive from Chicago who has been IU Health's chief operating officer since 2013.

—J.K. Wall