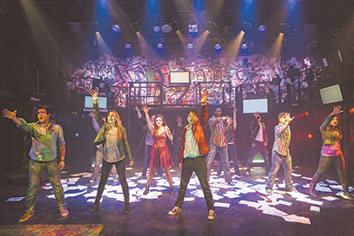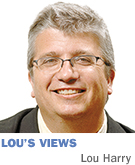 Even with 52 columns—plus blog posts—I couldn't see even a high percentage of all the worthwhile arts and entertainment offerings in central Indiana in 2015. So I'm going to forgo the usual top 10 list and, instead, focus, by category, on the strongest arts experiences I had the privilege of attending.
Voices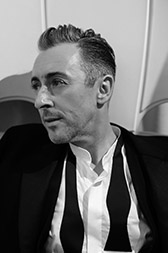 Alan Cumming (Photo courtesy of Cabaret at the Columbia Club)
Specifically, singing voices. After a string of unavoidable cancellations (and a threat of staying away due to RFRA), Audra McDonald offered a knockout concert with the Indianapolis Symphony Orchestra. Highlights among the many highlights: her renditions of two Kander and Ebb tunes, "Go Back Home" from "The Scottsboro Boys," and "Maybe This Time" from "Cabaret." Speaking of "Cabaret," that show's Broadway star, Alan Cumming, also delivered an outstanding combo of music and banter in his debut at the Cabaret at the Columbia Club. Mixing standards, pop and even a bit of Miley Cyrus, Cumming pretty much defined the word charismatic.
Audra McDonald (Photo courtesy of Autumn de Wilde)
But not all the outstanding voices I heard came from stars. I wish I had a recording of the Phoenix Theatre's cast for "American Idiot." Beef & Boards' "Addams Family" cast rose to the occasion with vocals that far outshined the touring company that visited a few years back. And the young singers rounded up for Michael Feinstein's Great American Songbook Academy made for another thrilling evening of song—even if none of my three favorites took the big prize.
Dance
Dance Kaleidoscope continued to mix pop with progressive, the former in "Ray and Ella," set to the music of Ray Charles and Ella Fitzgerald, and the latter in "The Next Wave," offering a chance for guest choreographers to set their work on the company dancers. The standout was "Lake Effect Snow," by Brock Clawson (abetted by Laura E. Glover's expert lighting design).
Indianapolis City Ballet once again brought top-notch dancers to Indianapolis for its annual "Evening with the Stars." Since 2009, these evenings have truly been world-class, and this year was no different.
Theater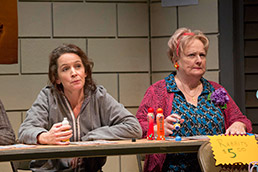 Constance Macy, left, gave one of the performances of the year in the IRT's "Good People." (Photo courtesy of Zach Rosing)
Strong scripts encouraged local actors to bring out their best. The Indiana Repertory Theatre wisely cast Constance Macy as the down-on-her-luck-for-a-lifetime lead in its January production of David Lindsay-Abaire's "Good People." The result was a performance that has stuck with me even as the year turns. Haunting work by Paeton Chavis and the rest of the cast of the Phoenix Theatre's "The Nether" by Jennifer Haley brought a strong script to memorable life. At Theatre on the Square, local acting favorite Rob Johansen proved himself an able director with Gina Gionfriddo's "Rapture, Blister, Burn." And Wisdom Tooth Theatre offered numerous reasons to take notice of its residency at the Indy Fringe Basile Theatre, particularly with the local premiere of Stephen Adly Guirgis' "The Last Days of Judas Iscariot."
On display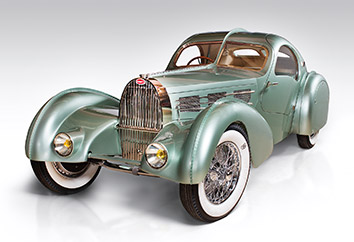 The Bugatti Type 57 Compétition Coupé Aerolithe re-creation was part of the "Dream Cars" exhibition at the Indianapolis Museum of Art. (Photo courtesy of Joe Wiecha)
Recently, I wrote about the thought-provoking work collected for "Conversations," the Eiteljorg Museum's biennial fellowship show (running through Feb. 28). Earlier in the year, the museum also offered "Gold!," a glistening and grim original.
The Indianapolis Museum of Art needed an attention-getting, audience-pleasing special exhibition to follow up its controversial shift to paid admission and it found it in "Dream Cars," a marvelously designed show that even appealed to those of us who didn't draw Camaros in our high school notebooks. At the Children's Museum, "Sacred Journeys" offered a change from licensed tie-ins to look respectfully at religions from around the world.
Laughs
A fully committed cast helped Defiance Comedy's "Camp Summer Camp" become a worthy Indy Fringe hit. Jason Adams and Erin Carr Adams proved the go-to-for-laughs couple of the season, he with his fun Fringe show "Jason Adams is a God Damn Mind Reader" and she by curating and hosting the new weekly "10@10" showcase night at Comedy Sportz. And the Crossroads Comedy Festival on Mass Ave presented a confident first-time event that came across like one that has been running for years. Here's to many more.
Out of town
I would be remiss if I didn't also sing the praises of shows seen out of town this season, including "Hamilton" and "Fun Home" on Broadway and Charles Mee's raucous, nearly indescribable "The Glory of the World" at the Humana Festival of New American Plays in Louisville.•
__________
This column appears weekly. Send information on upcoming arts and entertainment events to lharry@ibj.com.
Please enable JavaScript to view this content.