Labels can be comfortable. But they aren't always easy.

Take, for instance, the boom in restaurant openings in the greater Indianapolis area this year. Looking back on these newcomers, we could call 2015 the Year of the Brew Pubs, with hops houses popping up on a seemingly monthly basis. Among them, Big Lug Canteen, making smart use of the former Snooty Fox spot off East 86th Street, and St. Joseph Brewery & Public House, which pulled off an impressive reuse of a long-empty church.

But wouldn't it be more accurate to call this the Year of the Pioneers? In these pages, I've sung the praises of restaurants that have boldly gone into underserved dining areas—most notably Peter George's bustling Tinker Street on 16th Street and Love Handle, the East 10th Street gourmet breakfast and lunch spot disguised as a deli. Who thought the quietly opened Subito would so quickly become a go-to sandwich spot in the bail-bond zone downtown, while Dancing Donut would make a name for itself on East 54th Street? (A great sign sure helped.) North-siders flocked to a restaurant—Table—inside a supermarket at the new Market District, and Nourish popped up in the shadow of Lilly headquarters (alas, closing its doors not long after it opened).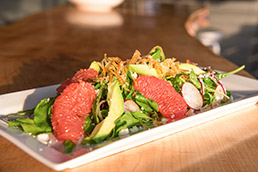 Ruby Grapefruit Salad at Peter George's Tinker Street restaurant. (IBJ photo/Eric Learned)
Another option would be to focus on Mass Ave, specifically specialty places. The evidence: Mimi Blue Meatballs, crepe purveyor Cropichon et Bidibule, and recently added fried-chicken specialist The Eagle all adding more options on the popular strip.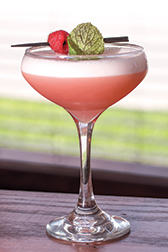 Retro cocktails are key at Repeal.
(IBJ photo/Eric Learned)
Or it could be the Year of Milktooth—when the launched-in-2014 crown jewel of Virginia Avenue restaurants achieved national attention via a Food & Wine cover story and other accolades. The success of Milktooth could also be credited with the further expansion of dining options along the Virginia Avenue stretch of the Indianapolis Cultural Trail, with gelato shop Café Nonna, swanky distillery/eatery Repeal, and 2014 latecomer Wildwood Market (home of the very limited but very pleasing here's-what-you-are-having-today sandwich). And you can draw a direct line down the road to Fountain Square newbies Marrow, Kuma's Corner, and Pioneer.

Now that I think about it, I'll just call it the year IBJ's dining reviewer had no shortage of new places to write about.

Here's to an equally appetizing 2016.•