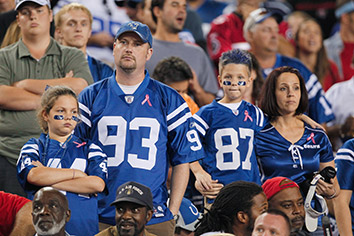 Colts offensive coordinator Rob Chudzinski wants to take more chances down the field.
He's still not sure that's the solution for Indianapolis' struggling offense.
One day after receiver T.Y. Hilton criticized the team's play-calling, Chudzinski said he is doing everything possible to get the offense back on track.
"I don't think anybody has ever said I've thrown too many short passes in a game," Chudzinski said Wednesday.
"Look, we're navigating through some challenging situations right now and are working to try to do our best to get what we need to be able to win."
Over the past four seasons, coach Chuck Pagano has made no secret of the fact the Colts must be able to run the ball effectively.
During their three-game skid, the Colts have scored 36 total points including one defensive touchdown, had 752 total yards and averaged a paltry 66.3 yards rushing per game.
The frustration finally went public Tuesday when Hilton acknowledged that with three speedy receivers — himself, the promising Donte Moncrief and rookie Phillip Dorsett — the Colts must do more to challenge coverages deep.
"The throws have been there, but we just haven't been calling them," Hilton said. "It's more the play-calling."
Even though Hilton made the most direct critique, it's not the first time someone in the locker room questioned the game plan. It was one of the reasons Pagano fired Pep Hamilton in November and promoted Chudzinski, one of Pagano's longtime friends.
Initially, the move paid dividends with three straight wins. Since then, though, the Colts have lost three straight along with the AFC South lead and seen their playoff hopes decrease. But the problem seems to go deeper than just play calls.
"I think I was referring to my conservative approach more so than anybody else's," quarterback Matt Hasselbeck said Wednesday, clarifying comments he made after last Sunday's loss to Houston.
"I think for me I've had this mindset of, 'Hey just don't screw it up. Be very, very careful. Let Adam (Vinatieri) have his three points in the red zone.'"
Playing it safe this season became a necessity because the offensive line has struggled to create running lanes or protect the quarterbacks. Those issues have proved costly in Indy.
Andrew Luck missed the first two games of his career after hurting his throwing shoulder in Week 3. He has already been ruled out of Sunday's game at Miami (5-9) — his sixth straight missed game — as he continues to recover from a lacerated kidney and a partially torn abdominal muscle.
Hasselbeck won his first four starts, but the 40-year-old has been knocked out of each of the past three games with back, shoulder, neck, rib and jaw injuries and now is losing weight while he sticks to a liquid diet and ices his jaw each night.
Hasselbeck was limited in practice Wednesday, but is expected to start Sunday as the Colts (6-8) try to stay in the playoff hunt.
Pagano, Hasselbeck said, gave him the option Wednesday of taking this weekend off if he is too sore. Hasselbeck said he declined.
After losing practice squad quarterback Alex Tanney to Tennessee and putting emergency quarterback Griff Whalen (fractured rib) on injured reserve Monday, the Colts are down to one healthy quarterback, Charlie Whitehurst.
"He (Hasselbeck) is as tough as they come. I think he's given us everything he's got," Chudzinski said. "Obviously he's played through some injuries and he's done a great job. I don't see any drop-off in his attitude, performance out there."
Will that be enough to use a more aggressive game plan during the last two regular-season games?
"Offensive football, I've been around it a long time. A lot of it is rhythm. A lot of it is getting in a groove," Chudzinski said. "Sometimes that can happen in a snap. Hopefully that's what we'll be able to do this weekend."
Please enable JavaScript to view this content.