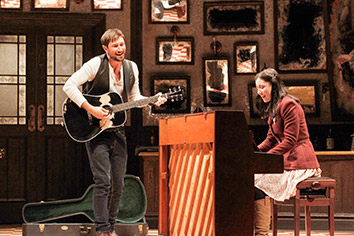 Happy New Year … a new year that you can make happier by planning to attend more Indy arts and entertainment events than you did last year.
Here's a starter list of some of the promising offerings that lie ahead. (Of course, I'll give you weekly updates on my A&E Priority List at www.ibj.com/arts.)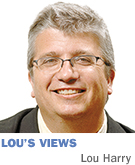 Out of This World: Cosmos Music Festival
A trio of concerts looks to the skies. First, music that is included on the space probe Voyager, including Stravinsky's "The Rite of Spring" and Beethoven's "Symphony No. 5." Next, of course, "The Planets by Holst," with the Indianapolis Symphonic Choir adding vocal power. Finally, "Also Sprach Zarathustra" and other music from the film "2001: A Space Odyssey." Hilbert Circle Theatre, Jan. 22-Feb. 6
"Sweeney Todd"
In the midst of a heavy season of Stephen Sondheim musicals (other works by the composer are being staged at Footlite Musicals, Buck Creek Players, and Theatre on the Square in the coming months), Actors Theatre of Indiana takes on perhaps his greatest creation—a bloody musical-theater masterpiece about a wronged barber out for revenge. Studio Theatre, Jan. 29-Feb. 14
"Once"
It's the first-time-in-Indy appearance for the Tony-winning heartbreaker about a street musician who—well, if you don't already know from the movie, then let yourself get lost in this low-key-but-powerful story featuring a terrific score played by onstage musicians. Clowes Hall, Feb. 9-14
"Voices of a Generation: The Folk/Rock Revolution"
Nick Owens and David Hochoy once again split the choreographic chores—as they did with 2014's "Ray & Ella"—for this Dance Kaleidoscope tribute to the music of the 1960s. Indiana Repertory Theatre, Feb. 25-March 6
"Speedy"
The Indianapolis Chamber Orchestra provides live musical accompaniment for this otherwise silent Harold Lloyd comedy about an unemployed New York Yankees fan. Watch for a cameo from Babe Ruth himself. Indianapolis Museum of Art, March 4
"Fences"
August Wilson's 1987 Pulitzer-winner—perhaps the best known of his cycle of 10 plays, each set in a different 20th-century decade—gets a revival at IRT. Its focus is a former Negro League baseball star working as a garbage man in 1950s Pittsburgh. Indiana Repertory Theatre, March 9-April 3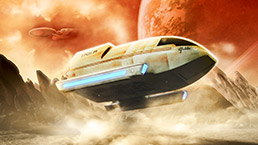 (Photo courtesy of Star Trek: The Ultimate Voyage)
"Star Trek: The Ultimate Voyage"
Music from the original series through the J.J. Abrams' reboot film is included in this symphonic orchestra tour, which also features video projection of scenes and montages from five decades worth of incarnations. Murat Theatre, March 18
"Alien Worlds and Androids"
Visitors can touch a meteorite, manipulate a robotic arm, take a Turing Test to determine if a question's answer came from a human or a computer, and create their own planets in this visiting exhibit that includes an appearance from R2D2. The Children's Museum will continue to look to the skies with a new permanent exhibit, "Beyond Spaceship Earth," scheduled to open in the summer. Children's Museum of Indianapolis, March 12-May 1
"Mansfield Park"
Attention Jane Austen fans: Jonathan Dove's 2011 chamber opera gets its Indianapolis Opera premiere. The critic for the London Evening Standard called it "witty, brilliantly inventive." That's promising even for those of us lesser Austen-ites. Schrott Center, March 18-20
"200 Years of Indiana Art: A Cultural Legacy"
Indiana's bicentennial is celebrated in visual art at this long-range show culled from the museum's permanent collection as well as from collectors, artists and other institutions around the country. Indiana State Museum, March 19-July 21
Denzal Sinclaire
When Sinclaire appeared at the Songbook Gala in 2014, his tribute to Nat King Cole led me to write that he "managed to put truth into every syllable with a sound that sent me running to YouTube as soon as I got home. I can't recall a time when I so quickly became a fan of a performer. Here's hoping he finds his way here for a full concert soon." Well, he has. And I'm excited. Palladium, April 16
Artist-designed mini-golf
It's not a new concept, but it can be a fun one when artists are assigned to design miniature-golf holes. The temporary set-up at the IMA will feature a course looking at the history and culture of Indiana. Indianapolis Museum of Art, May 5-Oct. 30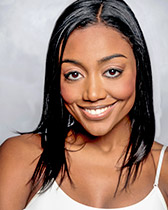 Patina Miller (Photo courtesy of Cabaret at the Columbia Club)
Patina Miller
It's tough to pick out just one performer from the strong list put together by the folks at the Cabaret at the Columbia Club. The early 2016 lineup includes Joshua Henry (terrific in Broadway's "Violet"), Ramin Karimloo (recently of the "Les Miserables" revival), plus Lea DeLaria, Marin Mazzie, Annaleigh Ashford (singing disco songs?!), and Jane Lynch. For now, how about Patina Miller, star of "Sister Act" and the recent "Pippin" revival, who also appears on CBS' "Madame Secretary"? Cabaret at the Columbia Club, April 29-30
"Carmen"
The Indianapolis Symphony Orchestra winds up its season with a semi-staged performance of George Bizet's "Carmen." Mezzo-soprano Oksana Volkova and tenor Evan Bowers take the leads, with the Indianapolis Symphonic Choir and the Indianapolis Children's Choir adding to the mix. Hilbert Circle Theatre, June 10, 12•
__________
This column appears weekly. Send information on upcoming arts and entertainment events to lharry@ibj.com.
Please enable JavaScript to view this content.