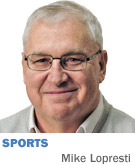 Landmark birthdays. Important anniversaries. Special occasions. The Pacers finding out how far revival can take them, the Colts facing rebooting. Say hello to 2016 in Indiana sports.
Larry Bird—Can this be possible?—will turn 60. Tom Crean will hit 50 in March, one day after Peyton Manning reaches 40. Brad Stevens turns 40 as well, even if it seems like he's been coaching since black-and-white TV.
Predictions? They all come with notable anniversaries. The Colts will mark the 10-year anniversary of the Super Bowl championship team by enduring a postseason-less January for only the second time in 14 years. Then comes the housecleaning. Jim Irsay will promise better. The issue is whether he uses discretion, or just pulls out a broom. What he should not do is raise prices.
The Pacers, 40 years after moving to the NBA, will use 2016 to show how they've reinvented themselves on the run. The month of May will be busy in Bankers Life Fieldhouse. Maybe even a little bit of June.  Paul George will not always like the officiating.
There will be more tributes than you can shake a green flag at in May, when the 100th Indianapolis 500 will be run. Gentlemen and ladies, start your memories. Someone didn't have a bad idea early last century, putting the oval in the middle of a cornfield on the Pressley farm out in Speedway.
We'll also mark the 20th anniversary of the Indy Racing League/CART split, a dark time that tore the sport apart. On May 26, 1996, CART held the U.S. 500, in direct competition with the Indy 500. If this were to be civil war, that day was Fort Sumter.  
At Indiana University, the big-on-offense basketball team will keep looking for enough defense to make a tournament run. Just like the big-on-offense football team tried to find enough defense to get to a bowl. Neither found enough to beat Duke. A good March will be important for a couple of reasons. No. 1, it will do wonders for Crean's longevity prospects. No. 2, it will be fitting accompaniment for the 40-year anniversary of the 1976 unbeaten national champions.
The rest of us will be taken aback to realize those '76 Hoosiers of history have closed in on Social Security. And surprised to note that Bob Knight was 35 at the time, or only 13 years older than some of his players. The General was barely a major for his finest hour.
Victory Field turns 20 in July, still seemingly young and fresh, and the Indians will have fireworks. That's like saying Geist has boats on the weekend. The Indians live for fireworks. The Pittsburgh Pirates and Cincinnati Reds will play an exhibition game in April, and the place will be full, since tickets sold like they were seats to "Star Wars, The Force Awakens."
The Women's Final Four will come to Indianapolis–and make history. Geno Auriemma will win his 11th national championship at Connecticut, passing Indiana native son John Wooden. This will be an even 30 years after Auriemma took his first Connecticut team into the tournament. See how it works in 2016? Always an anniversary of something.
Indianapolis Crispus Attucks will contend for a 3A sectional as a magnet school, 60 years after Oscar Robertson and his partners-in-greatness rolled through the first perfect season in Indiana high school basketball history.
Butler Fieldhouse became Hinkle Fieldhouse 50 years ago. The movie "Hoosiers" was filmed 30 years ago. To mark the occasion, visitors will stop in, gaze at the ancient aura of the place, and wonder which end Jimmy Chitwood hit his shot.
Peyton Manning will seriously ponder retirement, on the 10th anniversary of his Super Bowl championship season with the Colts. He was only 30 then, and everyone—especially Jim Irsay—figured there would be more rings. But there weren't. The rest of us will sigh and wonder, "Even Peyton?" as the curious human growth hormone story develops. Most will not believe it, because Manning and scandal seem to go together like ice cream and marinara sauce.
Fans will mutter how frustrating this Colts season has been, but they will forget 2016 is the 25th anniversary of the lowest of the low. The 1991 Colts went 1-15 and averaged 8.3 points a game. They scored 65 points all season after halftime. There will be no reunion.
The Pacers will mark their jump to the NBA 40 years ago, but not hang the first championship banner. It took them 18 seasons to win an NBA postseason series. The Denver Nuggets and New Jersey (now Brooklyn) Nets have never won a title, either. But the rafters of the fourth member of that ABA graduating class are a little more crowded: the San Antonio Spurs.
On the 20th anniversary of his first signing as a free agent, Adam Vinatieri will decide he wants to keep kicking field goals, since it is clear his right leg belongs one day in the Smithsonian. He missed eight field goals that 1996 season. He has missed eight the past three years combined.
There'll be good, there'll be bad, there'll be ugly. Just like any Sunday with the Colts. It'll be fun, marking the anniversaries. But it's still hard to get over Larry Bird turning 60.•
__________
Lopresti is a lifelong resident of Richmond and a graduate of Ball State University. He was a columnist for USA Today and Gannett newspapers for 31 years; he covered 34 Final Fours, 30 Super Bowls, 32 World Series and 16 Olympics. His column appears weekly. He can be reached at mlopresti@ibj.com.
Please enable JavaScript to view this content.