Employees at Eli Lilly and Co.'s corporate headquarters need not hoof it to the nearest watering hole if they want to unwind with a beer after work.

The pharmaceutical giant boasts its own bar and restaurant right on its downtown campus, where workers can enjoy a glass of suds or wine anytime after 4 p.m. without the inconvenience of leaving work.

Called Reveli, short for "revitalizing Eli Lilly," the gathering spot opened in 2012 amid troubling financial times for the corporation. But lately, more companies are following suit and allowing employees to imbibe in the office as the lines between work and social lives increasingly blend.

"Before Reveli, we had a zero-tolerance alcohol policy on site," said Steve Fry, Lilly's senior vice president of human resources and diversity. "But essentially, our employees are adults and we treat them like adults. So we changed our policy."

Experts say the trend to loosen the rules serves as a morale booster while embracing the entrepreneurial spirit of rewarding long work days. Companies partaking run the gamut, from corporations like Lilly to smaller architectural and marketing firms, in addition to, of course, trendy software companies.

"There is a blur between social and business, but I think it's also that cultural aspect," said Stephanie Fernhaber, an assistant professor of management in Butler University's entrepreneurship and innovation program. "You hear about Google and about everyone trying to do different things to create that entrepreneurial culture."

To be sure, offering alcohol at the workplace is becoming more common. The Wall Street Journal featured East Coast companies in a June 2013 story in which it said the keg is becoming the new water cooler.

But adding alcohol as a perk also could pose liability risks for employers, said Michael Blickman, a partner in Ice Miller LLP's labor and employment group.

He encourages businesses considering the benefit to update company policies making it clear that consuming excessive amounts of alcohol is prohibited.

Blickman said he's aware of the trend—one that didn't exist even 10 years ago—and noted that it's caused few problems. In fact, the veteran attorney said he can't recall a single case in which a company faced legal ramifications for workplace drinking.

"Companies make decisions that they can trust their people," Blickman said. "An employee would be committing career suicide if he or she got drunk at the worksite and then acted in a way that was irresponsible."

Fry
At marketing firm Perq, which connects companies with consumers, a bar is "smack dab" in the middle of the office space," said the firm's director of marketing, Muhammad Yasin. The company on Georgetown Road near West 71st Street built the bar two years ago, replacing a stocked mini-fridge. Four taps reserved for Indiana craft beers are open to the company's 75 employees.

The young development firm of Loftus Robinson has hosted what it called Manhattan Fridays at its office in Broad Ripple where real estate professionals could network with one another.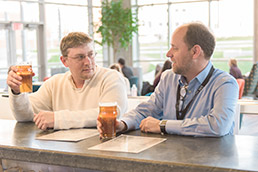 Lilly employees Michael Schneider, left, and David Greenen unwind after work at Reveli. Since Lilly opened the bar in 2012, more companies are allowing workers to drink alcohol on site as the lines between work and social lives blur. (IBJ photo/Eric Learned)
The firm, however, is moving downtown to the J.F. Wild building on East Market Street, a space it bought and is renovating. Loftus Robinson's office on the 12th floor—the building's highest—should be finished next month.

It will feature a 14-stool bar where employees can grab a beer or drink, firm partner Drew Loftus said.

"Fortunately, all of our employees are very responsible and won't allow it to negatively impact their duties," he said. "But at the same time, we promote an enjoyable company culture. So it's not unusual for employees to hang out after company hours."

The North American Retail Hardware Association is considering whether to test the waters, too. The Indianapolis-based not-for-profit moved last year into a three-story structure at 136 N. Delaware St., across from the Gold Building, that it invested $4 million in.

Blickman
NRHA offers monthly classes and training seminars for its national membership of independent hardware stores and built a bar and kitchen on the first floor to host events. Now, NRHA President Bill Lee might open it up to employees during the workday.

"It's so new, we haven't found our way through that," he said. "We kind of envision it that way, but I don't know yet."

Local architecture and design firm DkGr moved into new space last summer in Market Tower and also decided the timing seemed ideal to build out a bar.

Like NRHA, it often entertains and even invites guests to gather in the office before every Indianapolis Colts home game. Having a bar became critical as part of DkGr's marketing functions, firm principal John Albrecht said.

The firm's 10 employees are welcome at the bar during normal business hours, but drinks mostly flow on Friday afternoons during end-of-week planning sessions.

DkGr has designed office space for scores of clients, several of which wanted to include bars, Albrecht said. Among them: software firm Emarsys, venture studio High Alpha and digital consulting agency Studio Science.

"It's definitely a trend," Albrecht said.

Lee
Lilly, founded not long after the Civil War, might seem stodgy, not trendsetting.

But the company, before opening Reveli, was poised to lose patents on Zyprexa and Cymbalta—two of its biggest-selling pharmaceuticals.

"We knew we would be going through maybe our most difficult financial period while we waited for our newer medicines to launch," Fry said. "One of the things we knew we needed to do was revitalize our campus and make this a place where people really wanted to come and be engaged in the work we were doing."

Now Fry might mingle with scientists discussing their diabetes research—an opportunity not so easily afforded socially without Reveli. Workers in the past might have opted for the nearby Slippery Noodle Inn, a historic and popular downtown destination for sure but one where they also might run the risk of spilling sensitive company secrets.

"You'd go and there would be Lilly employees talking about their work," Fry said. "Who might be at the next table listening?"•