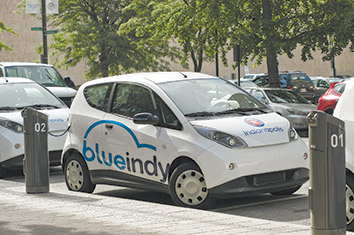 The BlueIndy electric car-sharing service said Thursday morning that it has sold more than 1,000 memberships and provided more than 7,000 rides to members since launching Sept. 2.
"The adoption of the new service has been stronger than we had hoped, and we could not be more delighted to be providing a service that many really needed," BlueIndy General Manager Scott Prince said in a written statement.
He said users of the service include residents who do not own a car, families who decided to scale back to one vehicle, college students who do not have a car on campus and professionals using the cars for commutes.
The BlueIndy fleet has grown to 120 cars. The service, modeled after parent company Bollore Group's similar service in Paris, plans to expand to 500 cars and 200 charging stations in the Indianapolis area.
BlueIndy said it will open 20 new stations by the end of February, including two stations at Butler University, an additional station at the University of Indianapolis, and four stations at the Indianapolis International Airport.
The company, which is investing $41 million here, did not provide financial information. But usage so far appears far short of what's needed for profitability. Bollore Group Chairman Vincent Bollore predicted last May that it would need 15,000 to 20,000 regular users in Indianapolis to break even. It expected to reach that point in three to four years.
Still, memberships have grown quickly. One month after the service launched, BlueIndy reported having signed on 500 members who had taken 1,500 rides.

The program offers weekly, monthly and annual paid memberships, which have a tiered structure. Daily memberships, geared toward tourists, are free. All drivers also pay user rates by minutes in car, with longer memberships paying lower rates.
Please enable JavaScript to view this content.