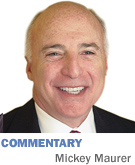 Last month Indianapolis Star reporter Nate Taylor made a case for election of George McGinnis to the Naismith Memorial Basketball Hall of Fame. The assertion was based on statistics—an excellent body of work achieved by a deserving candidate. Nonetheless, the efforts to elect McGinnis have failed each year since his eligibility in 1988, and time is running short. Perhaps the voters should know more. Who is George McGinnis?
McGinnis, the Basketball News' National High School Player of the Year in 1969, worked construction jobs the summer before beginning class work at Indiana University and after his freshman year. His paychecks went directly to his mother.
When McGinnis was in college in the early 1970s, the IU campus was boiling with new ideas and challenges. Black pride manifested itself in afros and bell bottoms—and racial strife. African-Americans on the football team rebelled against their coach, John Pont, resigning en masse over a perceived decision to limit playing time based on color. The premise was false. Pont could be tough but he was always fair. When the African-Americans on the basketball team were asked to support a football boycott with one of their own, McGinnis believed his coaches did not deserve that treatment. Neither he nor his teammates participated in the boycott.
In 1971, a so-called hardship rule allowed underclassmen to be drafted by a pro team if they could demonstrate that they suffered from a financial hardship. Since McGinnis was the sole supporter of his widowed mother, hardship was not difficult to prove. That year, he was drafted in the first round by the National Basketball Association's Philadelphia 76ers and the American Basketball Association's Indiana Pacers. He chose to stay close to home and joined the Pacers. The entire signing bonus of $35,000 was used to purchase a home in Indianapolis for his mother. It was the proudest moment of McGinnis' life.
College coach Bob Knight once commented to McGinnis that had he stayed just one more year at Indiana (Knight's first), Knight could have added another NCAA championship to his resume. A respectful McGinnis replied, "Coach, my mother needed the money."
The Pacers had a genuine connection with their fans and achieved the best attendance in the league. Much of that had to do with players contributing to their community during the summer. McGinnis enjoyed the interaction and made himself easily accessible. He has a cheerful demeanor coupled with an endearing love for his fellow man. His fans returned that affection.
Although consumed for years with his basketball career, McGinnis realizes that athletic honors are not the essence of life. He advises young people to stay centered and "never forget where you came from. No matter what kind of money you make, always be humble. Look at it as a blessing. Try to be helpful to others."
McGinnis often is invited to talk to young athletes. McGinnis is thankful that he has had strong relationships with people and relishes the times he spends working in the community, particularly with children. "I've been pretty lucky," McGinnis said. "From where I've come from, the environment I grew up in, I could have easily gone the other way, but I had good parenting. I was lucky to have my mother and father who were hard on me, and it paid off. We grow up to be our parents, so I've been blessed. I feel fortunate." Reflecting the values of his mother and father, McGinnis is a true gentleman.
Taylor made the statistical case for George McGinnis to be enshrined in the Hall of Fame, but voters should also consider that George McGinnis pursued his career with civility and class. Voters should consider not only whether McGinnis was an outstanding basketball player but more importantly what kind of outstanding basketball player he was. On that score, McGinnis should have been elected on the first ballot.•
__________
Maurer is a shareholder in IBJ Media Corp., which owns Indianapolis Business Journal.  His column appears every other week. To comment on this column, send e-mail to mmaurer@ibj.com.
Please enable JavaScript to view this content.