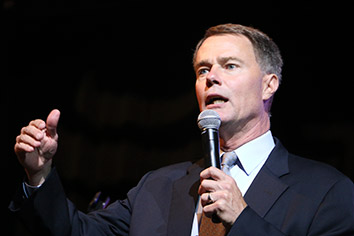 Newly installed Mayor Joe Hogsett had been in office only days when he brought together each of Marion County's public school district superintendents at the City-County Building for a one-on-11 meeting.
Hogsett and the 11 superintendents discussed the perils of poverty, the impact of property tax caps on school funding, state-mandated testing, and problems with ISTEP.
But they didn't discuss charter schools, Hogsett said after the private meeting adjourned.
It was a big statement, if not a little unusual, from the only U.S. mayor with the authority to oversee what's been a fast-growing portfolio of charter schools.
But with that, Hogsett made clear how his education agenda would differ from his predecessors'—the last two of which prioritized and fast-tracked charter expansion.
"I think the emphasis needs to be on quality over and against quantity," Hogsett said. "The emphasis will not be on adding more charter schools just to add more, but rather, holding the current charters appropriately accountable and making sure they have the resources they need to be successful."
Hogsett doesn't have direct control over any of the 11 traditional public districts—and says he doesn't want it.
Rather, he said he wants to build consensus around key issues, then use the mayor's bully pulpit to talk about the successes and challenges of public schools and help them where he can.
"I want to be an outspoken advocate on behalf of public education," Hogsett said.
He said he envisions a "very close working relationship" with public schools.
"It has always existed … and every mayor in his own way, I'm sure, has been an advocate for public education in Marion County," Hogsett said. "But one of the things I'm most encouraged by is the participation of all the school superintendents in this morning's conversation. It was the beginning of a partnership that I hope will profoundly impact and advantage public education throughout Marion County."
Hogsett wasn't shy saying right off the bat that he believes property tax caps have been a hindrance to public schools—and that he planned to talk to lawmakers about schools' financial troubles in next year's budget-making legislative session. The tax caps limit homeowners' bills to no more than 1 percent of their assessed values with caps for rentals and agriculture at 2 percent and commercial property at 3 percent—with exceptions when voters have approved extra spending. The caps reduce the amount of money collected by governments and schools, an impact that hits urban areas especially hard.
Hogsett said that has caused schools to be in competition with one another.
"Everybody fights for resources; everybody fights for the student population," Hogsett said. "Several [superintendents] were candid enough to say, 'We actively recruit students from your district.'"
IPS School Board President Mary Ann Sullivan, a former Democratic state legislator who bucked her party by advocating for charter school expansion at the Legislature, said Hogsett could be an effective voice at the Statehouse on behalf of public schools.
"I think he could be a very powerful advocate for getting real about what it costs to get the job done," Sullivan said. "He comes across as very frugal. A person who has that kind of perspective could be a great advocate for making sure our schools have adequate resources."
The superintendents said Hogsett seemed genuine in his quest to learn about their issues as opposed to foisting ideas on them. For instance, he said each superintendent would have to make his or her own decision about whether to participate in a future effort to combine enrollment systems for some Marion County schools.
Several superintendents said they weren't aware of similar opportunities under previous mayors when superintendents met together to discuss issues.

Woodson
Washington Township Superintendent Nikki Woodson said she was "thrilled with the invitation."
"He did a lot of listening, a lot of taking notes, asked a lot of clarifying questions," Woodson said. It was "90 percent him listening to each superintendent, which I think is an important step. It's hard to shape a vision without hearing firsthand from leadership."
Charter school slowdown
Hogsett said he wants to see all of Indianapolis' charter schools become successful, but he won't be afraid to "gently but firmly" close those that are underperforming.
"It's a delicate balance between encouraging choice and opportunity, but also emphasizing accountability," Hogsett said. "I would like to be able to report all 39 mayoral-sponsored schools are A-[rated] schools. That would be nirvana."
Still, Hogsett's signal that he would pump the brakes on charter school expansion is a significant departure from the last two Indianapolis mayors.
Former Democratic Mayor Bart Peterson was dubbed the "Peyton Manning of charter schools" after he became the first in the country to authorize charters out of the Mayor's Office in 2001.
During his time in office, he opened 16 charters before being defeated by Republican Greg Ballard in the 2007 election.
Ballard continued the push. The Mayor's Office now oversees 39 charter schools, with six more approved schools expected to come online in the next few years. Ballard said during his 2011 re-election campaign that he wanted to "make Indianapolis the national headquarters" for the education reform movement.
Brandon Brown, who worked in Ballard's Office of Education Innovation as the charter school director, said he appreciates Hogsett's focus on quality.
"It's very important to be a high-quality authorizer and it's important charter schools are held accountable," Brown said.
Hogsett has kept familiar faces from Ballard's administration in the charter school office. Kristin Hines, who joined Ballard's administration as an academic and policy analyst, is now supervising charter schools. Hines previously worked for the Indiana Department of Education and was a teacher through Teach for America.
The new mayor also tapped Ahmed Young as director of the Office of Education Innovation. Young taught for seven years in Indianapolis and New York City before becoming deputy prosecutor at the Marion County Prosecutor's Office. He also previously served on the board for KIPP Indy, a local charter school network.
Relationship with IPS
The relationship between the Mayor's Office and Indianapolis Public Schools, which serves many of the poorest students in the county and is often criticized for some of its schools' poor performance on state tests, has been tenuous for several years, particularly as some civic leaders have called for the district to be under direct mayoral control.
But that issue was pretty much a non-starter in November's mayoral election—other than when Republican challenger Chuck Brewer called for two mayoral appointees to the IPS board.

Ferebee
In a relatively new era of IPS and charter collaboration—Superintendent Lewis Ferebee has called for IPS and charters to work together rather than see each other as competition—Hogsett has an opportunity to get involved in new efforts between the entities.
"Mayor Hogsett and I share a lot of the same priorities," Ferebee said. "We both see early education funding and learning as a priority. Another good example is his emphasis on coming up with solutions for housing for teachers."
Sullivan, the IPS school board president, said she welcomes more collaboration.
"There's just so much opportunity there," Sullivan said. "I think we haven't gotten as far as we could. I love that he's looking at Marion County more holistically and not exclusively IPS. Several of the townships face many of the same challenges we do."
Ballard fought at the Legislature for Indianapolis Public Schools to have the authority to convert its low-performing schools to "innovation network schools," which essentially are charter schools that get to operate independently but receive some services from and are held accountable by the district.
IPS in the past year has quickly approved several innovation network schools.
Sullivan said she isn't worried that Hogsett's hesitancy about continued rapid charter school expansion would derail the growth of innovation network schools.
"There's other authorizers who are active in Marion County," she said. "I haven't seen any indication that he would be afraid to open new schools if they're needed."
One proposal that could affect both charters and traditional public schools is a unified school enrollment process, which proponents say would simplify the process for parents and give schools a clearer estimate of how many students to expect.
A unified enrollment system would also make obvious which IPS and charter schools are the most in-demand, which would help focus expansion efforts.
Caitlin Hannon, a former IPS school board member who left her seat to take a Mind Trust fellowship to explore the unified enrollment idea, said she welcomes Hogsett's participation in what she hopes is a city-wide effort. Hannon said she is currently in the planning phase.
"I would hope that this is something that any mayor would champion, anything that streamlines the process for families and gives families and policymakers better information," Hannon said.
Hogsett said he had spoken to Ferebee about the idea and was generally open to it, but wouldn't encourage the township schools to participate in it unless they wanted to.
Delicate balance of power
Hogsett's response made clear he's also well aware there's a delicate balance of power between his office and the county's 11 district superintendents.
"They might not be directly elected office holders, but they have been appointed by elected school boards," Hogsett said. "I am mindful that the role of the mayor of the city of Indianapolis is not to tell the public school corporations how to run their business."
It's a tricky situation for a mayor who's decided to prioritize public education but doesn't have control over the result.
Gonzales
Former San Jose Mayor Ron Gonzales, a Democrat who served the nation's 10th-largest city from 1999 to 2006 and singled out education as his top priority, said Hogsett will have to learn how to "walk a thin line."
"The dynamic of a mayor having the ability to charter a school but not control the traditional public schools is very interesting," Gonzales said. But he said people naturally look to the mayor to answer for the quality of the city's schools.
"Let's face it: Most people, whether they live in Indianapolis or San Jose, cannot differentiate between their school districts and city hall," Gonzales said. "They hold the mayor responsible for everything."
For now, Wayne Township Schools Superintendent Jeff Butts said he's encouraged that Hogsett "wasn't pushing any kind of a specific agenda or items he had predetermined."
"My ideal relationship with the mayor is that he will give us the opportunity to have open dialogue, that he will share with us when he has ideas and initiatives, but also ask us for feedback," Butts said.
But a word to the wise: The superintendents have united on at least one issue on which they don't want Hogsett's help.
"Snow days," Butts said. "We had a couple situations where we might have canceled prematurely based on a decision made downtown."•
Please enable JavaScript to view this content.