A dozen years after Indiana's major health-related businesses launched an ambitious effort to grow a cluster of entrepreneurial life sciences firms, that cluster of startups remains below average when compared with other Midwestern states.

When compared nationally, it's small.

That's not for lack of progress. The number of Indiana life sciences companies raising investment capital, and the amount of money they raise, has more than doubled since 2005. That growth was much faster than the average of 10 Midwestern states tracked by BioEnterprise, a Cleveland-based life sciences business development group.
IBJ.COM EXTRA
For Venture capital and angel investments in life sciences companies from 2005 to 2013 per $100,000 of gross state product,
click here.
But Indiana remains far behind such states as Ohio and Minnesota on numbers of life sciences investment deals and dollars—even when those figures are adjusted based on the size of each state's economy.

"For a long time, they've had these really nice technology clusters around the Cleveland area, for example, in Minneapolis-St. Paul, and those clusters are areas where innovation occurs. Quite frankly, I don't think that we in Indiana have had something similar," Oscar Moralez, managing director of Indianapolis-based life sciences consulting firm VisionTech Partners, said during IBJ's Life Sciences Power Breakfast on April 24.

Ohio and Minnesota, meanwhile, remain far behind leaders Massachusetts and California in life sciences startups even when their venture capital hauls are adjusted to their respective economies, according to a MoneyTree report compiled by Thomson Reuters, PricewaterhouseCoopers and the National Venture Capital Association.

Consider:

• From 2005, when BioEnterprise started keeping track, until 2013, 97 Indiana life sciences companies attracted investments totaling $483 million.

• By comparison, 487 Ohio companies attracted $1.8 billion, and 245 Minnesota companies attracted $2 billion.

• Using a different methodology, the MoneyTree report found that for every dollar invested in life sciences companies in Indiana, $2 was invested in Ohio, roughly $8 each was invested in Minnesota and Maryland, $17 was invested in California, and $35 was invested in Massachusetts.


That's after adjusting for their economies.

The figures strike a discordant note with Indiana's ranking as a top-five state for biosciences in a 2012 report by the Biotechnology Industry Organization. That report, compiled by Ohio-based consulting firm Battelle, ranked states based on the concentration of their jobs in biosciences sectors.

Indiana ranks well because it has large businesses in several life sciences fields: Eli Lilly and Co. in pharmaceuticals; WellPoint Inc. in health insurance; Dow AgroSciences and Elanco Animal Health in agricultural technology; Roche Diagnostics, Cook Medical, Zimmer Inc., Biomet Inc. and DePuy Orthopedics Inc. in medical devices; as well as a significant amount of life sciences research at Purdue University and the Indiana University School of Medicine.

Leaders of those institutions came together in 2002 to launch the BioCrossroads initiative to advance the life sciences industries in Indiana. One of BioCrossroads' primary tasks was to stir up an entrepreneurial cluster around the large institutions.

And there has been significantly more life sciences entrepreneurial activity in Indiana since then.

In 2005, the number of investments from venture capitalists and angel investors into Indiana life sciences equaled $9.65 for every $100,000 in gross state product, or the value of goods and services produced in the state. But over the past nine years, life sciences investments averaged more than twice that amount, at $19.96 each year per $100,000 in GSP.

"Availability of early-stage capital in Indiana has increased in the past decade, even as the industry has undergone significant changes and challenges," Brian Stemme, project director at BioCrossroads, wrote in an email. "Angel investors' participation has also increased significantly since 2005."

However, since 2005, Indiana ranked just sixth out of 10 Midwestern states in life sciences investment dollars as a share of their economies. Minnesota, Ohio, Missouri, Michigan and even Kentucky all attracted more.

Minnesota had four times as much capital invested and Ohio had twice as much as Indiana did, proportional to each state's economy.


IBJ.COM EXTRA
To read a transcript of the IBJ Life Sciences Power Breakfast panel discussion,
click here.
The trend also played out in the number of companies attracting investments.
In 2005, the number of Indiana life sciences companies receiving investments equaled 1.7 per $100,000 of GSP; over the past nine years, Indiana averaged four deals each year per $100,000.
The nine-year totals ranked Indiana third among the 10 Midwestern states, behind Minnesota and Ohio. However, both those states posted more than 10 deals each year per $100,000 of GSP—more than 2.5 times more activity than occurred in Indiana.
Local life sciences experts offered a variety of explanations for why Indiana's strengths in life sciences have yet to translate into more entrepreneurial activity.
Stemme said many new companies and funding come out of Ohio's Cleveland Clinic hospital system and Minnesota's major medical-device companies, such as Medtronic Inc.
Indiana, however, has had companies launched out of Lilly and the Warsaw-based orthopedics companies. Examples include the drug company Esanex Inc. and the health IT firm Maaguzi, both of which licensed intellectual property from Lilly. In Warsaw, such companies as OrthoPediatrics and Iconacy have been started by executives who left the larger orthopedic-implant firms in the northern Indiana community.
Other experts noted that Indiana's life sciences sector still remains smaller in absolute terms than even neighboring states'.
"The size of the industry clusters in those areas are much larger than what we have here in Indiana," Kristin Jones, president of the Indiana Health Industry Forum, said during the power breakfast.
Another issue is that the state of Indiana has not invested as much or as consistently in life sciences as Minnesota, Michigan and, especially, Ohio. The Buckeye State launched its Third Frontier initiative in 2002, funneling more than $400 million to life sciences companies.
There has been nothing on that scale from Indiana. And the program that did help fund life sciences companies, the 21st Century Fund, specifically turned away from funding life sciences companies in 2009, in favor of information technology and other industries where private investors showed more interest.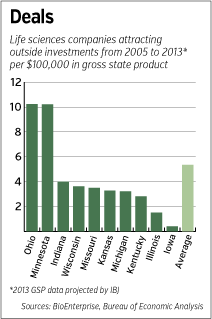 "I think that one of the perceptions that we also have to struggle with is the state investment in this," Jones said. However, she noted that Gov. Mike Pence's administration is working to renew state investments in life sciences companies.
Following the money
That trend will help, noted Joe Muldoon, CEO of Indianapolis-based FAST BioMedical, which is trying to raise as much as $20 million this year on top of nearly $17 million his company has already raised.
"I mean, money talks," Muldoon said at the breakfast, adding, "We need more capital availability; it needs to be deployed more quickly, and on terms that make sense, that are not so onerous you're not going to be able to do a round after that."
Another helpful trend is the recent success of Indiana's entrepreneurial life sciences companies, said Wayne Burris, chief financial officer of Roche Diagnostics and a board member of BioCrossroads. One example is West Lafayette-based Endocyte Inc., which has raised $247 million in public stock offerings.
"I think over time, money will follow the results," Burris said.
More commitments
To stimulate more success stories, Indiana's large life sciences entities continue to put money into efforts to boost entrepreneurial activity. A decade ago, they helped fund the $73 million Indiana Future Fund that spurred a big increase in venture capital investments in the life sciences.
And now, Lilly, Roche, Dow Agro and others are backing the $350 million Indiana Biosciences Research Institute, which aims to bring 100 life sciences researchers to the state to help discover and commercialize new products and companies.
"This Indiana Biosciences Research Institute and the project and the objectives of that initiative I think are going to continue to pull together and build this cluster of technology," said Moralez, head of the VisionTech angel investors group. "That hopefully will lead to more innovation, better innovation and following that would be the capital dollars that we all want to see."•