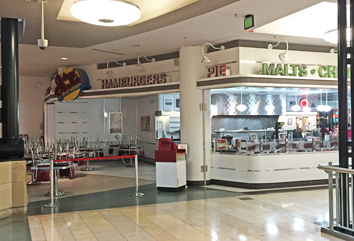 Johnny Rockets has closed its Circle Centre mall restaurant, joining a growing list of tenants vacating the downtown Indianapolis shopping destination.
The burger joint's standalone space was dim Monday afternoon during lunch time, with the chairs stacked on top of the tables.
The largest tenant in the third-floor food court, Johnny Rockets served its last customers on Sunday, a manager of the Aliso Viejo, California-based company said while winding down operations.
The restaurant is an original tenant of the mall, which opened in 1995. Its staff routinely entertained patrons by singing along to classic soul songs with choreographed moves. Johnny Rockets' Castleton Square Mall eatery, its lone remaining area location, remains in business.
Both malls are operated by Indianapolis-based Simon Property Group Inc.
"Johnny Rockets can confirm that the restaurant located in Circle Centre mall closed this past weekend," the company said in an email to IBJ. "Johnny Rockets completed the term on its lease and opted not to renew. At this time, there are no plans to close our other location in the Indianapolis area."
Johnny Rockets' departure from Circle Centre is the latest among several store closings on the third floor of the mall.
Gap and Gap Kids, in addition to the American Greetings card shop, Johnston & Murphy and the Yankee Candle Co., are the latest casualties.
Gap Kids already has ceased operations, while the others are set to shut their doors at the end of the month.
The closings will leave an abundance of space to fill on the mall's third floor. Gap occupies a large chunk of space, as did Gap Kids. The two stores, and Johnston & Murphy, also were among Circle Centre's original occupants.
The American Greetings shop will shut its doors after more than 13 years in the mall.
Simon has proposed an estimated $20 million in improvements to the mall, which spurred a downtown renaissance when it opened 20 years ago but now is showing signs of struggle.
The upgrades include an overall freshening of the 752,000-square-foot mall, including new lighting and seating, an upgraded food court, upgraded bathrooms, construction of a mall entrance on Georgia Street and improvements to other entrances to help better draw in passers-by.
Simon manages the mall but owns just a 15 percent stake. The rest is owned by about 20 local companies that pumped $75 million into the $320 million project in the early 1990s.
 
Please enable JavaScript to view this content.