The Children's Museum of Indianapolis is not just for children. It's not just for Hoosiers, either.

While the drawing power of the city's professional sports teams, conventions and even St. Elmo Steak House are often hyped, The Children's Museum is arguably the area's most magnetic force, luring visitors from virtually every state in the country and six of seven continents.

No one from Antarctica has made the trip—yet.



The largest children's museum in the country in 2015 drew 1.25 million visitors, just short of its record of 1.27 million in 2011 and up 4 percent over 2014. An estimated 350,000 attendees were from out of town, including in key growth markets like Champaign-Urbana, Chicago, Cincinnati, Louisville and St. Louis. The museum also saw visitors from Australia, Asia and myriad parts of Europe.

"The Children's Museum is a powerhouse economic driver," said Jay Gladden, dean of IUPUI's School of Physical Education and Tourism Management. "It's by far the biggest, most extensive and most impressive museum of its kind anywhere in the Midwest or along the East Coast. So it doesn't surprise me what a draw this facility is."

A 2014 study by the University of Michigan concluded The Children's Museum had an annual economic impact of $139 million, with museum visitors spending $95 million at hotels and restaurants.

That study showed the museum's impact is growing by more than $2 million per year—a rate that would make many attraction operators envious.

"Those are conservative numbers," said Lisa Townsend, Children's Museum vice president of marketing and external relations. "That study didn't use a lot of multipliers. A lot of that is direct visitor spending."

To put the museum's economic weight into perspective, a 2010 study by Chicago-based hospitality consulting firm Hunden Strategic Partners concluded the Indiana Pacers and Indiana Fever had a combined $55 million economic impact on the region.

The Indianapolis Colts commissioned a study in 2004 that found a season of home games—two preseason and eight regular-season games—had a $150 million economic impact on Indianapolis.

And out-of-state visitors spent $145 million combined at the three Indianapolis Motor Speedway events in 2012, according to the Indiana University Public Policy Institute.

The Children's Museum's economic impact is roughly the same as that of the city's two biggest 2015 conventions—GenCon and Performance Industry Racing Show—combined, according to Visit Indy, the city's tourism marketing arm. And the impact this year will be more than three times that of the much-ballyhooed week-long National FFA event.

Visit Indy uses The Children's Museum as a centerpiece in much of its marketing, including featuring the facility in its brand-positioning statement and making it a lead image on its website and across several of its digital-marketing platforms.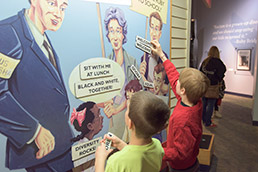 The Children's Museum focuses on interactive exhibits including this one about racial issues and discrimination. Some of its exhibits receive national media attention. (IBJ photo/Eric Learned)
"Any destination that can tout such a high-level, internationally acclaimed cultural institution such as The Children's Museum … [can] compete against other culturally minded destinations—and not only for leisure travelers, but for business travelers and economic development opportunities," said Visit Indy Vice President Chris Gahl.

The Children's Museum has a dual purpose for conventions, said Debbie Locklear, an Indianapolis-based meeting planner who works with several big, national trade shows.

It's an attraction that gives spouses and children of attendees something to do while the convention-goer is busy, but it's also a great venue for events, said Locklear, president of Meeting Services Unlimited Inc.

"All the top convention cities have great convention centers, airports and hotels," she said. "Cities need something else to set them apart in this highly competitive industry. The Children's Museum is certainly one of the elements that does that for Indianapolis."

The Indiana Office of Tourism Development also uses the museum as a drawing card, including it in the state's tourism guide, online marketing campaign and TV commercials.

Media attention

"We really are becoming a bucket-list destination," the museum's Townsend said. "People read about the museum, and it becomes a must-see."

In 2015, USA Today ranked The Children's Museum as one of the 20 most-visited U.S. museums.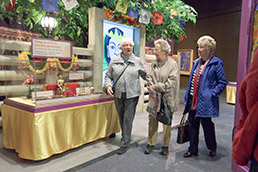 About 58 pecent of daily tickets sold at The Children's Museum are purchased for adults and the museum has been named to must-see lists for adults as well as kids. (IBJ photo/Eric Learned)
"When you think there are more than 17,000 museums in the U.S., that's pretty impressive," Townsend said.

Family Fun magazine last year named The Children's Museum the third best U.S. science museum, the top Midwest vacation destination, and fourth-best U.S. vacation destination.

The Early Childhood Education Zone, a national publication known for its rankings of children- and education-centric items, institutions and places, last year named The Children's Museum the top U.S. children's museum, and the L.A. Times ranked it one of the top U.S. travel destinations.

Overall, The Children's Museum generated 4 billion media impressions worldwide last year due to media coverage, Townsend said.

"At the end of the day, we're not a typical children's museum, and that's why we've been so successful in attracting people [from] all over the world," she said. "With our exhibits and displays, we're tackling some really important issues that are newsworthy."

Some exhibits that have made news, Townsend said, featured terra-cotta warriors, dinosaurs, world religions and even Hot Wheels.

In addition to its public relations efforts, The Children's Museum also has a robust annual advertising budget. According to the not-for-profit's 2013 Form 990 tax filing, the most recent available, the museum spent $1.9 million on advertising and promotions.

Townsend declined to provide budget detail—except to say advertising includes print, online, billboard and radio, and that about a quarter of it is targeted at out-of-state markets.

Museum surveys show about 60 percent of 2015 nonmember paid attendance—nearly 250,000—came from more than 100 miles away. But total non-local attendance was significantly higher, because museum pricing varies—including free options.

Daily ticket prices are $18.50 for ages 2-17, $22.50 for adults, and $21.50 for seniors. Many local visitors, and some non-local, purchase a $164 annual family pass good for unlimited visits. Others are admitted at reduced prices for group tours or through a low-income pass, or during free hours the first Thursday of each month or all day on Martin Luther King Jr. Day and other designated days.

Humble beginnings

The Children's Museum wasn't always the singular international draw it is today. Founded in 1925 by Mary Stewart Carey, the facility mostly relied on donated artifacts until the mid-1960s.

Mildred Compton became the museum's director in 1964, staying until 1982, and began for the first time to run The Children's Museum more like a business. She implemented the museum's first long-range plan and steered it toward American Association of Museums accreditation by standardizing records, storage and conservation procedures.

Compton also launched an aggressive public relations campaign to draw a wider audience.

An $8.8 million capital campaign she spearheaded in 1973 laid the foundation for the core of the present facility at 3000 N. Meridian St., which opened in 1976.

Growth continued under Director Peter Sterling, who took over for Compton and in 1984 doubled the size of the museum's collection. A $14 million facilities expansion in 1987 solidified the museum's national reputation.

With 472,900 square feet under roof and 120,000 artifacts, the museum is now the largest children's museum in the United States.

"The city watched this facility blossom right before our very eyes," said Bill McGowan, president and CEO of the Indianapolis Convention and Visitors Association (now Visit Indy) from 1984 to 2002. "It went from a mostly local draw, to a regional attraction, to an international must-see destination in a matter of about 25 years from the 1970s to the 1990s."

Attendance continues to grow at a solid pace, increasing 21 percent over the last decade. And though museum officials don't track visitors' ages, they say they've seen an increasing number of adults attending without children.

The key to the growing international visitor base across all age sectors, Townsend said, "is having a diverse array of ever-changing exhibits that apply to a wide range of people of all ages."

Exhibits that appeal to adults as much as children, Townsend said, include "The Power of Children: Making a Difference," a permanent exhibit that opened in 2007; and "Take Me There: China" and "National Geographic Sacred Journeys," both of which have been recognized nationally.

"It's most definitely—as is evidenced by its name—a children's museum," said IUPUI's Gladden. "But to pigeonhole this attraction as one merely for kids would be wrong. It's a whole lot more than that. And its growing attendance and economic impact on this entire region bear that out."•