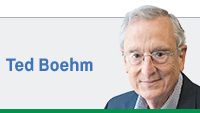 The present law establishing the process for selecting Marion County judges has been held unconstitutional. No current judge's term will expire until 2019, so there is no immediate need to enact a constitutional selection plan. However, it would be helpful to those considering becoming or proposing candidates for the bench in three years to know the rules.
Sen. Mike Young, chairman of the Senate Judiciary Committee, and four other senators from Marion County have proposed a bill to overhaul the process. The proposal's unconstitutional predecessor established a method for Marion County that was followed nowhere else in the state or nation. The proposal is likewise without precedent.
By the time you read this, the Judiciary Committee will have held the bill's initial hearing. The bill has many worthwhile objectives. It would retain all current judges, would assure that neither political party dominates the Marion County bench, and, save for some highly problematic provisions discussed below, would promote stability on the bench.
Judges would serve subject to a retention vote every six years. If a judge chooses not to seek retention, or is rejected by the voters, a newly created nominating commission would select a new judge.
So far, so good.
There are, however, some provisions that are unwise, if not unconstitutional.
The nominating commission would not only select judges, it would also determine their qualification to stand for retention. This, in effect, authorizes the commission to remove sitting judges. Indiana already has a process administered by the Supreme Court to handle cases of judicial incompetence or worse. It should not and arguably cannot constitutionally be supplanted by a new commission outside the judicial branch.
The proposal to give a commission power to refuse a judge's request to be put on the ballot is inconsistent with the requirement of a retention election. If retention should be put to the voters, why should a group of political appointees screen who gets on the ballot, any more than we permit anyone to police who runs for any office?
No individual or group should have the power to remove a judge without a judicial proceeding. But this problem is exacerbated by the composition of the commission. Eight commissioners would be legislators appointed by Republican and Democratic legislative leaders. Marion County political party chairs would each appoint three, and the Indiana and Indianapolis bar associations would each appoint one.
Remarkably, any commission member could be removed by the appointing authority "at any time." The result would be a bipartisan commission with 14 of 16 members serving at the pleasure of six politicians. Appointing judges is historically an executive function, not a legislative one. And giving political appointees the power to terminate a judge's career is not consistent with the concept of the rule of law, or the separation of powers, both of which require an independent judiciary.
The provision for filling a judgeship that becomes vacant midterm by death, resignation or removal is also problematic. The governor would appoint an interim successor from two candidates proposed by the nominating commission.
No problem so far, but the successful candidate could not seek retention. This prohibition has no apparent proper purpose, but would have some adverse consequences. A commission can fill a vacancy by the same process it selects a judge for a full term. More important, denying retention would severely limit the number of candidates and the quality of that candidate pool. Few, if any, desirable candidates will apply if they will have to restart a career in a few years.•
__________
Boehm is a retired Indiana Supreme Court justice who previously held senior corporate legal positions and helped launch amateur sports initiatives in Indianapolis. Send comments on this column to ibjedit@ibj.com.
Please enable JavaScript to view this content.