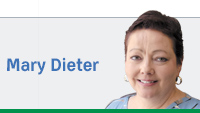 The school counselor told her it would shave just a few points off her child's IQ.
That's what a mother said in an interview in Flint, Michigan, where residents drank lead-poisoned water for 18 months before their indifferent government belatedly took steps to stop it.
Just a few IQ points for a kid who already is starting life more than a few steps behind, living in a city of 99,000 where median household income is half that of the United States, 42 percent of residents live in poverty, and 57 percent are black.
Just a few IQ points. As stomach-churning as that is, it's not the whole story. Lead poisoning can cause failure to thrive, behavioral issues, high blood pressure, joint pain, kidney damage, memory loss, mood disorders, and possibly miscarriages and criminal behavior.
The Michigan governor, his environmental agency and the regional office of the U.S. Environmental Protection Agency systematically covered up and profoundly let down Flint residents, more determined to save money than save futures, more concerned about deflecting blame than preventing damage. The Region 5 EPA administrator and Michigan's top environmental official have resigned. Gov. Rick Snyder should, too, but he has merely apologized. Their actions are far too little, far too late, for the Flint families who might be irreversibly harmed by their alleged leaders' apathy and ineptitude.
When horrible things happen to somebody else, we tend to take smug solace in thinking, "It can't happen here."
Only I have zero faith that something like the Flint disaster can't happen in Indiana, where every action by the current governor and his predecessor has been weighed against political consequences, where the slightest possible imposition on business (read: contributors) immediately renders worthless any environmental-protection proposal. Govs. Mitch Daniels and Mike Pence have fought environmental protections at every turn and weakened the state's ability to go after polluters.
The state—whose water was deemed by a 2014 study as more polluted by industrial chemicals than that of any other state—recently joined a lawsuit challenging federal authority to protect some streams and wetlands under the Clean Water Act. Meanwhile, Pence has criticized President Obama's Clean Power Plan—a response to climate change—but is making no visible headway toward deciding if the state should write its own plan. He asked environmental groups early on for their ideas, but discussions since have gone behind closed doors, leaving common citizens out of a matter that deeply affects them.
Maybe Pence's minions are devising ways to challenge the president's plan. That would fit the pattern of their boss, whose actions demonstrate the disdain he has for environmental protection. Is it any wonder Indiana recently was deemed the most polluted state in the country for air quality? HealthGrove analyzed Centers for Disease Control and Prevention data to identify states with the highest levels of PM2.5 particles from 2003 to 2011. Indiana was ranked No. 1.
For good measure, Republican lawmakers are pursuing a bill to prohibit the state from enacting any environmental measure more stringent than federal law. While it's unlikely the Pence administration would ever be so moved, environmentalists say the bill would inhibit the state's response if a situation like Flint's happened here.
So Flint's residents might suffer brain damage and more Hoosiers can count on dying from cancer and heart disease. Flint is already happening here, just in a less visible way. Will Pence do anything about it? Will the Legislature let him? Trust our leaders at your own peril.•
__________
Dieter, a writer and an editor, is the former Statehouse bureau chief for The Courier-Journal and press secretary for Gov. Frank O'Bannon. Send comments on this column to ibjedit@ibj.com.

Please enable JavaScript to view this content.