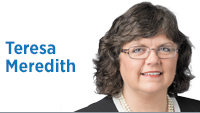 Predictions that education policy would be a major issue during this year's General Assembly were valid. One-hundred and seventeen education-related bills have been introduced.
Many bills aim to address Indiana's teacher shortage, a major policy goal for ISTA and its members, through recruitment. But I want to also highlight the need to focus on retaining experienced teachers for the betterment of our classrooms and our students.
As a first-grade student, I was influenced by an experienced teacher. Mrs. Griffith was a veteran in the classroom and successfully helped me, and my mother, navigate first grade. Without the benefit of attending kindergarten, I was behind my peers.
Mrs. Griffith identified and acknowledged the gap. She prepared weekly instructions on what to work on at home, while respecting my mother's role in this work. Her efforts resulted in my catching up to my peers, and fueled my interest in becoming a teacher.
Retaining veteran teachers maintains stability in the classroom, which leads to the creation of stable learning and work environments. Kids and educators feel secure, building lasting connections with experienced teachers who plan to stay put. These connections form a sense of family for kids who crave supportive and predictable adults in order to learn and succeed, particularly in schools challenged with geographic or economic hardships.
Similarly, parents and care givers feel a sense of security when they see familiar faces in their child's school. Veteran teachers may have also developed the skills to encourage and bring parents and care givers into the role of an active, engaged adult in their kids' learning, like Mrs. Griffith with my mom.
Administrators gain from having experienced teachers in their schools. They can build classes by matching teaching and learning styles to create the optimal environments for kids.
By contrast, a high turnover rate has an impact on education spending in the state. A University of Pennsylvania study found that Indiana spent $20 million to $40 million in 2008-2009 on teacher attrition and turnover. These costs can include advertising expenses, administrative costs, orientation, mentoring and other items.
Also, the U.S. Department of Labor estimates employee turnover costs amount to 30 percent of the departing employee's salary. These numbers become a significant factor in the teacher-shortage discussion when we see 17 percent of teachers with fewer than five years of experience leave the field.
Experienced teachers are just that—experienced. They know the curriculum. They know the students. A study in the Journal of Public Economics found that "teachers improved their ability to boost student test scores on average by 40 percent between their 10th and their 30th year on the job."
Veteran teachers can also be an asset for new teachers—whether new to the profession or new to the building.
The learning even goes both ways. These teacher-to-teacher exchanges are the building blocks for mentoring relationships. A study published by the National Bureau of Economic Research concluded the influence of more experienced, effective teachers on inexperienced teachers resulted in improvements in student achievement in math and reading. The peer-learning allowed for the acquisition of new teaching skills and elevated the overall teaching effectiveness over time.
Veteran teachers aspire to leave a legacy. Retaining a teacher with a long-term career outlook results in generations of students' benefiting from their experience, dedication and professionalism.
The tangible legacy of experienced teachers is professionals, like me, who strive to follow in their footsteps. I am a legacy of Mrs. Griffith.•
__________
Meredith is president of the Indiana State Teachers Association and has taught for more than 20 years in Indiana schools. Send comments on this column to ibjedit@ibj.com.

Please enable JavaScript to view this content.