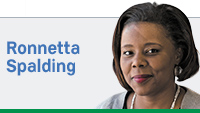 As Hoosiers consider which person to choose as our next president, I urge them to approach the task as if they were interviewing candidates for a job at the company they own.

So far, those running for president are not making a good first impression.

A recent survey says voters think nine of the candidates (GOP and Democrat) aren't suited for the Oval Office. How's that for an awesome job interview?

For the study, titled "Voters Skeptical that 2016 Candidates Would Make Good Presidents," the Pew Research Center surveyed 2,009 adults, more than half of them registered voters. Using, "What if they were president?" scenarios, participants ranked candidates as great, good, average, poor or terrible.

Donald Trump (52 percent), Hillary Clinton (44 percent) and Jeb Bush (42 percent) took the top prizes for how many voters think they would be "terrible" or "poor" as president. The next level of terrible-or-poor awards included Chris Christie (36 percent), Bernie Sanders (35 percent) and Ben Carson (34 percent). Rounding out this impressive group of bad ratings were Ted Cruz (31 percent), Marco Rubio (29 percent) and John Kasich (24 percent).

Would you want your doctor or a contractor working on your house to carry such horrible results on his or her potential effectiveness? Probably not.

Taking a good look at the candidates, it's safe to say many of their performances have been less than president-worthy caliber. The debates have mostly been a hot mess. Those seeking office usually stray from one insult to another, or worse, spend the entire time in a fantasy world making up "facts" as they go along.

Not all the survey results were bad. Each candidate also snagged some favorable ratings. But for all of the nine candidates, negative predictions outweighed the positive ratings.

These results should make voters pay more attention to the details. Voters must see beyond the crowds and flashy handheld signs to clearly evaluate which person is best suited for the White House.

After all, anyone running for office is still being interviewed for the job. If people think candidates would be bad or terrible right now, we can't afford to ignore what candidates are saying and doing to earn our vote.

Candidates, none of which want low approval ratings even before taking office, should take these results as a reminder to communicate better with voters. Hoosiers like me want our next president to tell us what he or she will do in Washington, D.C., and how those efforts will affect Hoosiers, our families and our communities.

Every word, promise, mistake and action counts. I want to make sure my candidate, once elected, can handle the White House. It's a bigger-than-life job, with even bigger responsibilities and consequences.

From the moment all the candidates kicked off their campaigns, their job interviews began. References matter, but I really want to see how candidates carry themselves, how they handle situations, and what their responses say about their ability to get the job done.

It's challenging to know if the candidates are taking their interviews seriously. I know voters are paying attention—and some are so turned off they are now considering skipping voting altogether.

Candidates, both Republican and Democrat, high in the polls or barely registering a blip, you have been warned. And so far, your performance rating is less than flattering. There's still time to turn things around, I guess. Right now, "president" might not be such a good title for you.•

__________

Spalding is executive director of the 51% Club, a project of the Indiana Democratic Party. Send comments to ibjedit@ibj.com.