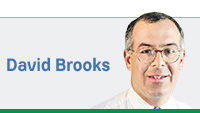 In a recent piece in The International New York Times, Anand Giridharadas exactly captured the mood of the country: "If anything unites America in this fractious moment it is a widespread sentiment that power is somewhere other than where you are."

The Republican establishment thinks the grass roots have the power but the grass roots think the reverse. The unions think the corporations have the power but the corporations think the startups do. Regulators think Wall Street has the power but Wall Street thinks the regulators do.

The Pew Research Center asked Americans, "Would you say your side has been winning or losing more?" Sixty-four percent of Americans, with majorities of both parties, believe their side has been losing more.

These days people seem to underestimate their own power or suffer from what Giridharadas calls the "anxiety of impotence."

Sometimes when groups feel oppressed, they organize by coming up with concrete reform proposals to empower themselves. The Black Lives Matter movement is doing this.

But in other cases the feeling of absolute powerlessness can corrupt absolutely. As psychological research has shown, many people who feel powerless come to feel unworthy, and become complicit in their own oppression. Some exaggerate the weight and size of the obstacles in front of them. Some feel dehumanized, forsaken, doomed and guilty.

Today we live in a world of isolation and atomization, where people distrust their own institutions. In such circumstances many people respond to powerlessness with pointless acts of self-destruction.

The American election has been perverted by these feelings of powerlessness.

Americans are beset by complex, intractable problems that don't have a clear villain: technological change displaces workers; globalization and the rapid movement of people destabilize communities; family structure dissolves; the political order in the Middle East teeters; the Chinese economy craters; inequality rises; the global order frays.

To address these problems we need big, responsible institutions (power centers) that can mobilize people, cobble together governing majorities and enact plans of actions. In the U.S. context that means functioning political parties and a functioning Congress.

Those institutions have been weakened of late. Parties have been rendered weak by both campaign finance laws and the Citizens United decision, which have cut off their funding streams and given power to polarized super-donors who work outside the party system. Congress has been weakened by polarization and disruptive members who don't believe in legislating.

Instead of shoring up these institutions, many voters are inclined to make everything worse. Plagued by the anxiety of impotence many voters are drawn to leaders who pretend that our problems could be solved by defeating some villain. Donald Trump says stupid elites are the problem. Ted Cruz says it's the Washington cartel. Bernie Sanders says it's Wall Street.

The fact is, for all the problems we may have with Wall Street or Washington, our biggest problems are systemic — the disruptions caused by technological progress and globalization, mass migration, family breakdown and so on. There's no all-controlling Wizard of Oz to slay.

If we're to have any hope of addressing big systemic problems we'll have to repair big institutions and have functioning parties and a functioning Congress. We have to discard the anti-political, anti-institutional mood that is prevalent and rebuild effective democratic power centers.

This requires less atomization and more collective action, fewer strongmen but greater citizenship. It requires the craft of political architecture, not the demagogy of destruction.•

__________

Brooks is a New York Times columnist. Send comments to ibjedit@ibj.com.