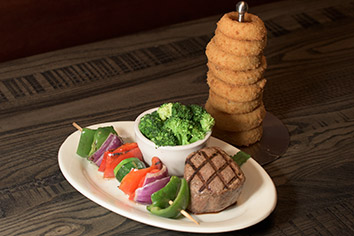 When a restaurant boasts, boldly, that it will make things right if there's any problem—when it posts that core tenet in big letters near its entrance, espouses it in its online bio, and stresses it on its menu—two thoughts come to mind.
The first: Wow, that's impressive dedication to the customer experience.
The second: Does this restaurant make that many mistakes?
My experience at Amazing Joe's (3716 E. 82nd St., 436-7367) demonstrated both why the policy is in place and the fact that it's taken seriously.
I'll get to both the mistakes and the corrections in a bit.
First, some background. Amazing Joe's is a birthed-in-Muncie restaurant now with locations there, here, and in Columbus. Taking over the former Pizzeria Uno spot just east of Keystone at the Crossing, it seems to be targeting diners in the mood for a steak but not willing and/or able to splurge on nearby heavy-hitters Sullivan's/Ruth's Chris/Fleming's/Harry & Izzy's/Ocean Prime, etc. Rather than requiring an expense account, a ribeye or New York strip at Amazing Joe's will set you back under $20 ($9.99 for an early-bird Sirloin Dinner, Monday to Thursday, 4-5 p.m.).
And, unlike the big guys, a pair of side dishes is included in the sticker price.
You'll find zero surprises on the appetizer list: The Ba-da-Bing Wing Basket ($9.99 with 99 cents added for blue cheese dressing) was just that—a basket of good-enough wings with a limited selection of sauces.
Our server informed us that Amazing Joe's is known for its fantastic A.J.'s Bread ($1.99) and that it's free at the Muncie location but you have to pay for it here. It seemed odd to tell us that, but we ordered, anyway—anticipating something memorable only to be delivered a warm, underbaked loaf of lightly garlic-flavored Italian bread. We asked that it be credited as one of our side dishes but later found it was still charged.
I don't think the Hand-Cut Breaded Tenderloin ($9.95) earns the "best in the Midwest" menu boast, but it found the right balance between size and flavor, with coating not overwhelming the pork. I'd happily have it again. A side of Peanut Slaw—sandwiches get one side—offered a slight, pleasant twist on traditional slaw.
A 6-ounce Joe's Famous Hand-Cut Filet ($19.99) arrived perfectly well done. Alas, we had ordered it medium. In the interest of dining together, we didn't send it back, instead cutting into an unexceptional, under-flavored, get-what-you-pay-for steak. Our concerned waitress did notice that we didn't spend much time with our pasta dish—the angel-hair, olive/basil/tomato/garlic-sauced Pomodoro Telle with Shrimp ($15)—and, when told it was over-peppered, offered a replacement or a removal from the bill.
We opted for the latter and were soon visited by a manager graciously offering an additional $15 credit for a return meal. We stuck around for a tasty-but-not-crafted-in-house Just Like Warm Apple Pie ($7.49), an odd name for a dish that was, in fact, warm. It included cinnamon ice cream and caramel sauce.
The credit encouraged me to return for what turned out to be a more satisfying experience. The Classic Burger ($8.99)—cooked as we ordered—presented a solid-but-juicy half-pound of Angus beef, significantly better than $10-plus versions we've had elsewhere. Monterey Jack Chicken ($11.99) covered an ample marinated breast with sauteed mushrooms and a heavy cheese sauce. And the Onion Tower ($7.99 for seven to eight rings, $9.99 for double that) featured batter that gave crunch but didn't block the sweet, sugary onion flavor. They didn't require but were nicely accentuated by house-made chipotle dipping sauce.
This time, no make-goods were necessary.•
—Lou Harry
 
Please enable JavaScript to view this content.