When the private, evangelical Grace College & Seminary decided to authorize a public charter school 150 miles from its campus, it did so behind closed doors.

When Seven Oaks Classical School opens later this year in Bloomington, it will be funded with taxpayer money, like all charters.

But officials at Grace in Kosciusko County, just south of South Bend, won't say anything about the vote that approved it or release the recommendation its staff made to the executive committee of the Grace board of trustees.

Critics, including a bipartisan pair of lawmakers at the Indiana General Assembly, say that's a problem, particularly because the Indiana Charter School Board had already denied Seven Oaks' application over concerns the school lacked educational leadership capacity and the ability to adequately serve poor children.

Behning
"[We] need to know why Grace College decided to do it when the Indiana Charter School Board said no—twice," said Rep. Bob Behning, R-Indianapolis, who is a supporter of charter schools. "We need to make sure there's transparency."

The approval process appears to be an example of charter authorizer "shopping" in Indiana. That's the term used when charter schools seek out authorizers who are more likely to approve their application.

Critics of shopping say the process undermines the basic premise of charter schools—that they receive greater freedom in exchange for greater accountability. And they say it's particularly problematic because private colleges receive a financial incentive—up to 3 percent of a school's state aid as a sort of administrative fee—to approve more schools.

Pierce
"That's a built-in conflict of interest," said Rep. Matt Pierce, D-Bloomington. "The more transparency you could have, I think that would go a long way to reducing concerns that people are going to be shopping around to an authorizer who's going to be more sympathetic."

Seven Oaks is affiliated with the conservative Hillsdale College of Michigan and emphasizes "America's founding principles," traditional teaching methods and Latin. It first sought a charter back in 2014 from the Indiana Charter School Board, an independent state agency that approves and monitors charter school performance.

The ICSB, which currently oversees 14 schools, declined Seven Oaks' application in fall 2014, saying the school lacked adequate board capacity in the areas of accounting and education administration. It also was concerned that the budget did not include serving kids lunch—or breakfast for students who are poor enough to be eligible for free- or reduced-price meals.

Seven Oaks reapplied to the board last spring with an improved proposal, said ICSB General Counsel and Policy Director Michelle McKeown, but the board's staff again recommended it be denied.

"It was relatively strong, but it wasn't quite yet over the bar for us," McKeown said. "We still felt that educational administration [experience] was lacking on the board. We wanted to see a little more depth there. The other weakness is, they didn't demonstrate a comprehensive understanding of how classical pedagogy works. It seemed a little surface-level."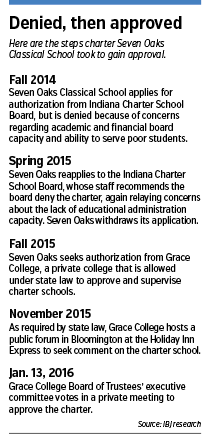 Moving on

But the state charter board isn't the only way a school can get approved. The mayor of Indianapolis and all universities—public and private—have charter authority as well.

So Seven Oaks gave up on the state and decided to seek another option. This time, it turned to Grace College, which monitors two other charters. The school submitted what Seven Oaks attorney and board member Terry English called "substantively the same application."

"We have a comfortable fit with Grace College and thought we would have a fair hearing," English said. "We were doing what the law allows us to do."

Grace College said its consideration of the proposal included a review by the college's charter office staff, external experts and legal counsel. It was approved in a private meeting of the school's board of trustees' executive committee in mid-January.

The school will not release the vote total or its staff recommendation—even to the board of Seven Oaks Classical School.

"I believe the most important thing is not how each member of the board voted, but the fact that they made a collective decision to authorize the Seven Oaks Classical School charter," spokeswoman Amanda Banks said in a statement.

English said he found "nothing untoward" about the process, but stressed that the charter school itself would be following the open-door law.

"We've done nothing illegal, nothing unethical, nor has Grace College," he said.

But the process left some Monroe County residents feeling frustrated.

Jennifer Robinson, a parent of three children who attend public schools in Monroe County, said parents deserve to know more from private authorizers who are charged with monitoring a public school's performance.

"It's public money. It's tax dollars," Robinson said. "The public deserves transparency. It's deeply concerning."

Authorizer shopping?

Critics say Seven Oaks' decision to apply to Grace College after two denials from the Indiana Charter School Board amounts to authorizer "shopping." But others aren't sure.

The term has typically applied to charter schools that are already open but in danger of closing because their authorizers are dissatisfied with their performance or finances. Lawmakers and charter supporters have tried to cut down on that practice in recent years, saying it hurts the overall charter school movement.

IBJ reported in 2014 that some poor-performing charter schools were finding ways to stay alive. Of the seven schools Ball State University decided to close in 2013, four were still operating the next year, either as charter schools with different authorizers or as private schools accepting public vouchers.

It's legal in Indiana for charter schools to apply to authorizers as many times as they want—or change whom they're applying to. Proponents of that practice say that's because schools should have a chance to improve their applications several times over, or find a better fit.

But Cathy Fuentes-Rohwer, a member of the Monroe County chapter of Indiana Coalition for Public Education, said it undermines stricter authorizers.

"You have this one set of standards that apparently doesn't matter as much to Grace as it did to the state charter school board," Fuentes-Rohwer said. "What kind of accountability is that?"

Tricky situation

The stumbling block for lawmakers and Indiana charter school officials is figuring out how to enhance transparency among private institutions that are not subject to the state's open door law, which requires public meetings to be open.

"It's a loophole that we're going to fix," said James Betley, executive director of the Indiana Charter School Board. "Hopefully, it won't happen again."

A 2011 law gave private universities the ability to authorize charter schools, which had previously been done primarily by the Indianapolis Mayor's Office and Ball State University. State law requires universities to hold a public hearing in advance of approving the school but doesn't require the final vote or discussion to be public.

"Under the existing law, they're within their rights," said Steve Key, executive director and general counsel for the Hoosier State Press Association. "This is an unusual situation because you have a Legislature that has given a private entity the authority to make a decision that's going to impact where tax dollars go."

Indiana Public Access Counselor Luke Britt, who provides advice about the state's public access and records laws, told IBJ he is currently "evaluating the issue."

Key said lawmakers might consider requiring that private universities open up meetings, or portions of meetings, where charter schools are to be discussed.

And Pierce said Grace College, or another private authorizer, should have to respond to comments addressed in the required public hearing.

"I think it'd be helpful for them to explain how those concerns were not valid or that other factors outweighed those concerns," Pierce said.

There has to be a minimum level of transparency, Behning said.

"There are some parts of the approval process that probably requires some sensitivity," he said. "But not being able to tell who was present, not being able to tell who the board members were [that approved it], those are all things the public has a right to know."•