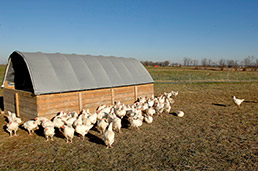 Lawmakers say a bill moving through the Indiana General Assembly that would restrict some small poultry producers from selling their products directly to restaurants is about improving public health.
But those small producers, part of Indiana's growing "farm-to-fork" movement, say it would hamstring their ability to compete in a marketplace dominated by large producers.
While the bill generally applies to "various meats," it effectively targets small poultry producers that are exempt from certain levels of inspection. It would mandate that they receive the same scrutiny as large producers, which they say would be too costly and unnecessary.
"This is not big agriculture versus small producers," said Rep. Don Lehe, R-Indianapolis, last week before the Indiana House passed the bill 54-42. "It's not going to alienate the competition. It's not going to limit local access. I just want us to do all we can to ensure we have a safe as possible food supply."
But Chris Baggott, a co-founder of email marketing company ExactTarget who in recent years has pursued sustainable farming, disagrees. He said this bill would hurt his business, Tyner Pond Farms, and other smaller businesses like it.
"It stifles market access," Baggott said. "These small businesses have invested significant amounts of money in commercial facilities, and to have the rug ripped out under them is fundamentally unfair. These are not un-inspected facilities. These are pristine facilities."
Federal law allows farmers who raise and process up to 20,000 birds a year to be exempt from the requirement that an inspector be present when slaughtering is taking place, if they get through a lengthy application process.
Currently, the only exempted farm is the Hawkins Family Farm in Manchester. Its owners say they still are subject to facility inspection, sanitary requirements, and record-keeping requirements.
Hawkins Farm, which raises and processes about 4,000 chickens a year, has been rallying support against the bill on social media by using the hashtag #KeepChickenOnTheMenu. Its online petition has about 1,600 signatures.
Zach Hawkins, who owns the farm with his father, said the "20,000-bird exemption" is scale-appropriate government regulation.
"It recognizes there is still a lot of power in local markets made up of small producers and discerning consumers to produce safe and high-quality food," Hawkins said in a video posted to his Facebook page.
Baggott, who was planning to apply for the exemption, said he doesn't believe the rule would make his processes safer, because on-site inspectors can't physically see pathogens like E. coli or salmonella.
"All respect to them, there's very little value they add looking at an animal," Baggott said.
The bill has caught the attention of the Farm-to-Consumer Legal Defense Fund, a national advocacy group that aims to protect the "rights of farmers and consumers to engage in direct commerce."
"Legislation prohibiting or restricting market access for local food producers is not about food safety, but rather about eliminating competition for the industrial food system, often before local producers can get any traction in the market," according to a blog post by the organization.
Indiana advocacy groups are split on the issue. Lehe said the Indiana Farm Bureau and the Indiana Poultry Association brought the issue to him.
But the Hoosier Environmental Council said it would place an "undue burden" on small farmers.
"We're not against food safety, which seems to be the goal of the bill," staff attorney Kim Ferraro said. "But it's not these small producers that are the cause of food outbreaks. It's the big slaughterhouses. We're trying to promote local, sustainable farmers, which have connections to the land and are typically more responsible with how they handle manure. This would move us in the wrong direction."
The bill next will be heard in the Senate. It was assigned to the commerce and technology committee.
Please enable JavaScript to view this content.