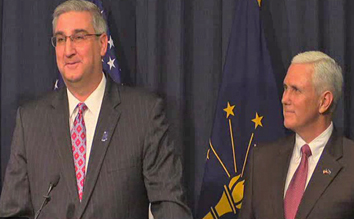 Gov. Mike Pence announced Tuesday that he planned to appoint Eric Holcomb as his lieutenant governor and Lt. Gov. Sue Ellspermann would step down from the position—a major shakeup on the governor's re-election ticket months before the primary election that political observers say could help mend fences in the Republican party.

Eric Holcomb
Holcomb, an adviser to former Gov. Mitch Daniels, fueled speculation about the announcement when he said Monday that his decision to withdraw from a competitive U.S. Senate primary race against two sitting congressmen was to "serve our beloved state in a different capacity." Meanwhile, Ellspermann is a candidate for the top job at Ivy Tech Community College.
Holcomb's appointment is subject to confirmation by the Indiana House and Senate, which are both dominated by Republicans. Pence said he expected the transition within "weeks, not days."
Pence said he had received an avalanche of texts and emails in the last 24 hours amid the speculation.
"Eric has the character and the experience to serve our state as lieutenant governor and I'm very honored and privileged he's stepping forward to serve at such a time as this in our state," Pence said at a press conference.
He made the offer to Holcomb on Sunday.
"I pulled off the side of the road," Holcomb said. "I was humbled and accepted on the spot and jumped in."
Jeff Cardwell, chairman of the Indiana Republican Party, cheered Pence's appointment of Holcomb.
"His broad range of life experiences are priceless," Cardwell said. "He brings a lot of high energy and wisdom to the table."
Political observers say Holcomb's appointment could help unite the Republican party around Pence, who has frustrated many top Hoosier business leaders and key party members with his approach to handling the contentious Religious Freedom Restoration Act debate last year and the LGBT rights debate that has ensued since.
"Eric Holcomb represents a slightly different wing of the Republican party than Mike Pence," said Robert Dion, who runs the political science department at the University of Evansville. "He's still plenty conservative, but he's a different kind of conservative. He brings a little bit of balance to the ticket. That might help in a modest way to build or rebuild some bridges to some elements of the party that may feel that things have gotten off track, that Indiana's been though a bit of a rough patch."
Ryan Kitchell, who worked with Holcomb in the Daniels' administration, said Holcomb is very effective as a consensus builder.
"On Major Moves [Daniels' road funding package], he did all of that coalition work of bringing different groups together who in many cases had never been on the same side of issues to work together and really did a nice job," Kitchell said. "I've seen Eric in a lot of different areas be very effective at working with people and unifying disparate groups. I'd expect him to take the same approach there [with the LGBT rights debate]."
But Ellspermann's exit from the ticket at this juncture also raises eyebrows, Dion said, especially given speculation that Ellspermann and Pence disagreed on how to deal with RFRA.
"There's the elephant in the room, which is that it's highly unusual to see this kind of high-level shakeup just a couple months before the [May 3] primary," Dion said. "The optics are a little troubling."
Ellspermann confirmed Monday that she was seeking the top Ivy Tech job. But even though Ivy Tech's board is appointed by the governor, it isn't a sure thing. Candidates have until March 15 to apply.
"Nothing has changed with the process our board started back in September," Ivy Tech spokesman Jeff Fanter said. "The board is confident it will have multiple high-caliber, high-profile candidates interested in being the next president of Ivy Tech."
A campaign official for Democratic gubernatorial candidate John Gregg panned Pence's move as politically motivated.
"Mike Pence is shoving aside an accomplished businesswoman, who hasn't always agreed with his radical ideology, in favor of a longtime political operative who will be in lock-step with him," Gregg for Governor Campaign spokesman Jeff Harris said in a written statement. "… While Mr. Holcomb's qualifications are unclear, what is crystal clear is that Mike Pence has once again put politics ahead of the best interests of Indiana."
Republican U.S. Sen. Dan Coats, who used to be Holcomb's boss, called the appointment a "brilliant choice" by Pence.
"Eric is a solid conservative, who brings a wealth of experience gained through his decade of service to Gov. Daniels, his leadership of the Indiana Republican Party and as my state chief of staff," Coats said in a statement. "Eric is known and respected by Hoosiers throughout our state, and he is dedicated to working with Gov. Pence to continue the progress Indiana has made over the last decade and to making our state a better place."
Read more stories about the 2016 election at our Ballot Box page.
Please enable JavaScript to view this content.