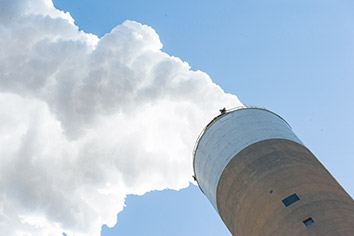 The massive coal piles at the Harding Street Station power plant, which once seemed to reach to the sky, are shrinking to a small mound.
It's been about six weeks since the final rail shipment of coal was dumped at the south-side plant, which provides electricity to millions of Indianapolis homes, factories, schools and office buildings.
In coming days, the coal pile will continue to winnow and finally disappear. On Feb. 26, the plant will burn its last load of coal, ending a tradition that dates back to 1931, when the plant began operation.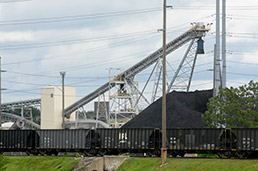 The coal piles have dwindled since this photo was taken in 2013. The plant, which used to burn 2 million tons of coal a year, will burn its last load this month. (IBJ photo/Eric Learned)
Under pressure to meet stringent clean-air regulations, the plant's operator, Indianapolis Power & Light Co., is converting it to natural gas.
It's a moment that's been years in the making, and will put more pressure on Indiana's coal industry to find other uses for 40 million tons of coal it produces each year.
In recent years, Harding Street Station has burned 2 million tons of coal a year, a cheap source of fuel that turned water into steam and powered turbines that created electricity.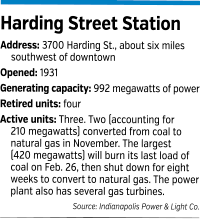 But the plant also discharged millions of pounds of toxic emissions into the sky, including carbon dioxide, sulphur oxide, nitrous oxide and particulates.
Harding Street is the largest Indiana power plant so far to end coal burning, but is far from the only one. In 2010, when the Sierra Club began its Beyond Coal Campaign, Indiana had 26 active coal-burning power plants. By the end of this year, the state will have just 13. Most are closing because the owners decided it wasn't economical to retrofit them to meet clean air and clean water rules.
In 1998, coal-burning power plants accounted for 98 percent of the utility-generated electricity in Indiana. By 2014, that number had shrunk to 85 percent, according to the U.S. Energy Information Administration.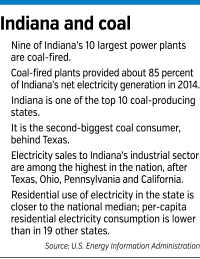 "We anticipate that number to fall even further in 2016, with a number of coal-burning power plants scheduled for retirement or refueling by April," said Jodi Perras, leader of the Sierra Club's Beyond Coal Campaign in Indiana.
The conversion is costing IPL $70 million. The company is also retiring six coal-fired units at its Eagle Valley Generating Station near Martinsville. To replace them, IPL is building a 650-megawatt combined-cycle gas turbine, at a cost of $630 million.

With so much of Indiana's electricity baseload converting away from coal, the question is whether Indiana can continue to resist federal pressure to make power plants more environmentally friendly.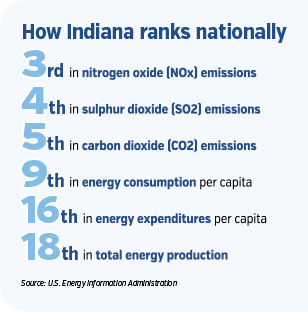 The Obama administration is tightening federal rules on smog-forming pollution, saying more stringent emissions requirements would clean the air dramatically. The Environmental Protection Agency has drawn up a Clean Power Plan that calls for sweeping new requirements to cut carbon dioxide emissions 32 percent below 2005 levels by 2030. States have until 2018 to submit their plans.
The goal is to shift the nation to cleaner energy, and require states to meet specific standards to meet carbon emissions.
But Gov. Mike Pence, a Republican, has said the state will not comply. He has said it will make Indiana electricity more expensive and less reliable and will hurt economic growth in Indiana and across the nation. Several other states are also defying the president.
"Indiana is a pro-coal state, and we must continue to oppose the overreaching schemes of the EPA until we bring this war on coal to an end," Pence said in his State of the State address in 2015.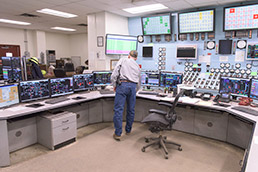 The Harding Street plant opened in 1931. Its control room features a mixture of modern computer gear and equipment dating back decades. (IBJ photo/Eric Learned)
Twenty-seven states, including Indiana, have filed petitions to keep the rules from taking effect. The D.C. Circuit Court of Appeals last month denied those petitions, setting the stage for a lengthy legal fight that seems destined to head to the U.S. Supreme Court. And in a sharp setback to Obama and environmentalists, the Supreme Court on Feb. 9 temporarily blocked the new emissions standards from going into effect.
Meanwhile, some Indiana Democrats say the state should begin exploring other options for cleaner energy. But the Legislature, controlled by Republicans, has not passed any significant energy legislation this year.
"It would be a colossal mistake to continue to laze around, hoping to win this lawsuit," said Rep. Christina Hale, the senior Democrat on the House Utilities, Energy and Telecommunications Committee.
The Indiana Coal Council also opposes the more stringent air emissions, saying it will cost jobs. The Indiana coal industry employs more than 26,000 people. More than 500 job cuts have been announced in the last 12 months, said Bruce Stevens, the council's president.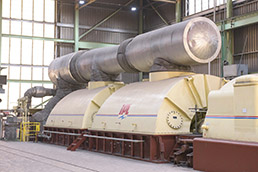 The turbines soon will be powered by gas. (IBJ photo/Eric Learned)
He also disputed claims that Indiana's coal is dirty and harmful. The amount of coal burned a year to produce electricity has climbed 150 percent over the past 30 years, while the amount of sulphur, nitrous oxide and particulates has been cut more than 80 percent, he said.
"Pollution controls are working," he said. "Coal has been the fuel that has powered Indiana for decades, and should continue to do so."
The use of coal continues to shrink. Last year, Indiana produced 34.5 million tons, down from 39 million tons in each of the previous two years.
U.S. coal production last year was 900 million tons, about 10 percent lower than a year earlier and the lowest level since 1986. Coal companies have responded by laying off workers and watching profit tumble. The Dow Jones Coal Index is down 97 percent from its high in 2008.
Meanwhile, at the Harding Street Station, some of the changeover has already taken place. In November, the plant converted its two smaller units, which each generate about 105 megawatts, to natural gas.
The third and largest active unit, which generates about 450 megawatts, will go offline for about eight weeks while workers disconnect the coal pipes, the conveyor belts and the milling machines that pulverize chunks of coal into a fine powder. They then will install gas lines and other equipment.
"Those units have been burning coal for decades," said Brad Scott, IPL's vice president of power supply. "That's a lot of years, and a lot of coal that went through there. But by the same token, the turbines are still the same, the boilers are still the same. Instead of burning coal to make steam, you're burning gas to make steam."•
Please enable JavaScript to view this content.