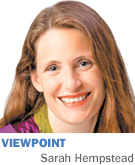 Bloomberg News recently featured what is perhaps the world's best "smart" office building saying, "It knows where you live. It knows what car you drive. It knows who you're meeting with today and how much sugar you take in your coffee."

Could we build something like that in Indy? Absolutely. And we have buildings now that come closer than you think.

The Edge in Amsterdam, the subject of the Bloomberg feature, has 1,000 flexible workspaces for 2,500 employees. An app knows your schedule and assigns your day's workspace, depending on your preference for a plush chair in the balcony, a sitting or standing desk, work booth or "concentration room." The parking garage recognizes your car and messages you the number of an available space. Wireless is everywhere, so various flat screens can sync with any phone or laptop. There are coffee and food and an on-site gym. At the end of the day, you can pick up pre-ordered dinner ingredients. The building generates more solar electricity than it uses, and a collection system repurposes rainwater to flush toilets.

Flex space: Wait. Haven't we been trying and abandoning flexible workspace for years? Yes, but we're learning from those experiences. "Hot desking" works better for some tasks than others, so experience has taught us when to apply it and how to mix it with traditional spaces. And the concept is more acceptable to younger workers more comfortable working with their computer on their lap—or in a coffee shop.

What's critical about modern workspace is having enough technology-rich shared and collaborative spaces so you can do the work that needs to be done. Building flex space is cheaper than building offices, and if you accommodate 2,500 workers in space for 1,000, you're building fewer buildings—the ultimate sustainability.

Technology: A decade or so ago, we marveled at Bill Gates' home where the lights, television, security system, and heating and air were controlled by facial recognition. Guess what? My Xbox uses facial recognition. It's a short leap to having my office say when I walk in, "Good morning, Sarah, your workspace is 68 degrees and the files for your first meeting of the day are on your screen."

We're already controlling our security and HVAC systems from our smartphones. And those of us with Apple AirDrop are synching our computers with the screens in whatever room we're working in.

Similar systems are being used on college campuses, where students' ID cards are used for accessing technology, paying for meals and building access. Moving that to a smartphone app is a short leap.

Sustainability: Nearly every sustainable feature of the Edge is in use in buildings around Indy today. We can build an office tower that generates more power than it consumes and retrofit existing buildings to these energy standards. It takes owners who want to make the investment.

One challenge is that Americans use more energy per capita than anyone else in the world. It takes building design, education and behavior change to implement sustainability at international levels.

Amenities: The Edge is on target in including gyms and cafes as social spaces. When we visit open-concept offices we have designed, we find people gathered where there is food. Office workers not only enjoy sharing birthday cake and pizza, they like places where they can make food as a group. It costs extra to add spaces that are not technically necessary for completing your work, but companies willing to do that consider it an investment.

Is Indy ready? The NeoCon commercial interior show this summer was packed with comfortable, residential-style furniture for impromptu office meetings and "focus space" booths that form a cocoon around a person's head to block distractions, so flexible workspace tools are gaining traction in the Midwest.

It's really a corporate question. What is your company's culture? How does your work get done? When local companies are ready for flexible spaces, facial-recognition technology and state-of-the-art sustainability, Indy is ready, too.•

__________

Sarah Hempstead is a principal in Schmidt Associates.