Contrary to what you might have learned in college, ramen is more than just a cheap brick of noodles and a salty, MSG-packed spice packet.

It's actually a dish—well, a bowl—with as many variations in Japan as there are pizza styles in the United States.

And unlike that cheap packet from the bottom grocery store shelf, ramen takes time—time to make quality noodles, time for its flavors to combine in the broth, and, in the case of Ramen Ray (5628 E. 71st St., 781-656-5859), time to stand in line and time to stand around waiting for open spots at the communal tables.

It's difficult to argue with success. Ramen Ray has transformed what used to be a Taco Bell into one of the hottest restaurants in town. But just as good ramen takes time to reach its optimal state, Ramen Ray also needs time to sort out some of the challenges of being an overnight sensation.

On our visit—around 5 p.m. on a Saturday—a line snaked from the counter and out into the cold, maintaining its length throughout our visit. It took about 15 minutes to reach the cash register, where our order was slowed by a need to ask for descriptions, since none of the three menu items offered are described on the chalkboard menu. Making matters worse, the kitchen was out of every one of the add-ons except extra noodles. (Reminder: This was early on a Saturday evening.)

A 10-minute wait for an open table led to another 20 minutes before we were called to the counter to pick up our meals, which we ate as those behind us hovered near the serve-yourself water and barley tea station.

Takeout is not an option, nor is packing your leftovers.

While the process isn't ideal, what arrived at our table was satisfying (if a bit pricy). Ramen Ray offers just three options (all bowls are in the $12.50-$13.50 range, with extras—had they not run out—running $1 to $2 each), and I'd happily return for another bowl of any of them: Shoyu, defined by its dark, soy-saucy broth; sweeter Miso; and the saltier Shio.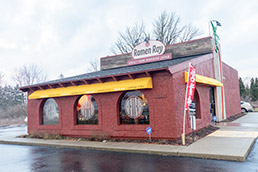 A rare moment when the line doesn't stretch out the door at Ramen Ray. (IBJ photo/Eric Learned)
All are anchored by springy, tasty noodles, soft-boiled egg, and roasted sliced chashu pork belly. But Ramen is as much about the broth as it is the solid ingredients, and Ramen Ray delivered in all three bowls. Pacing yourself by alternating between soup slurps and chopstick delivery is recommended to keep the meal in balance.

Sides, appetizers and desserts aren't part of the picture and, since you are likely to eat fairly quickly—wouldn't want your soup to get cold—your actual dining time is going to be minimal.

Long lines of diners clearly disagree but, as of now, I'm not convinced the payoff—as carefully prepared and good-tasting as it is—is worth the process.•