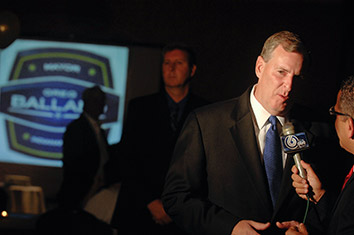 Former Indianapolis Mayor Greg Ballard is the latest high-profile Indiana politician who appears to be interested in the top job at Ivy Tech Community College.
An Ivy Tech board member on the college's presidential search committee said he believed Ballard, a Republican, was interested in the job and was planning to apply. Ballard joins outgoing Lt. Gov. Sue Ellpersmann, who applied to the job before announcing she would leave Gov. Mike Pence's administration.
"I've heard there's a good possibility," said Ivy Tech board member Michael Dora.
A source close to the former mayor said Ballard has neither applied for nor been interviewed by the board for the job. But the source said it would be premature to dispel the notion that the mayor was not interested in the position.
Ivy Tech is still searching for candidates to fill the position, which is open due to the impending retirement of current president Tom Snyder, who is in his early 70s and has run the college since 2007.
Unlike many mayors, Ballard had a unique role as mayor of Indianapolis to supervise the performance of schools.
Ballard oversaw the Office of Education Innovation and focused on opening and holding accountable the mayor's portfolio of charter schools. His former deputy mayor Jason Kloth recently left to pursue a career in workforce development.
Ballard also started the Vex Robotics championship in the mayor's office, which the mayor's office said "provides a space for students to work alongside industry professionals to design, build, and program a robot to compete in an exciting atmosphere."
Please enable JavaScript to view this content.