Three of the Indianapolis area's highest-profile office parks, including the two largest in the North Meridian submarket, are expected to fetch as much as half a billion dollars when they hit the market next month.

Duke Realty Corp. is selling Parkwood Crossing and Hamilton Crossing on the north side, in addition to Interactive Intelligence Park (formerly Woodland Corporate Park) on the northwest side, as it continues to divest suburban office properties.

The Indianapolis-based developer is putting its last remaining local office parks on the market to satisfy a long-range plan that calls for a heavier focus on industrial and medical office space.

The aim is to ultimately make the publicly traded company more appealing to institutional investors.

Podell
"When you have three different business units, it's confusing to analysts," said Charlie Podell, senior vice president for Duke's Indiana and Ohio regions. "And it's the direction we wanted to go."

The three office parks collectively account for nearly 2.4 million square feet of space and should command a price rivaling the local market's richest deal, real estate sources said.

Franklin Street Properties of Massachusetts paid $203 per square foot in 2005 for One and Two River Crossing, next to the Marriott North Indianapolis.

"They'll probably get top dollar," Jeff Harris, president of NAI Meridian, said of the office parks. "We haven't had this type of property on the market in a while."

A price of $200 per square foot would bring Duke a total of $500 million for the three properties—funds the company will use to grow its industrial base, Podell said.
Duke's decision to concentrate on the industrial market signifies a return to the company's roots. John Wynne, Phil Duke and John Rosebrough founded Duke by buying the then-ailing Park 100 industrial park in 1972.
The partners in 1976 expanded to include office parks and took the company public in 1993. Duke's 10-million-square-foot portfolio then has grown to 141.8 million square feet in 22 cities.
In the Indianapolis area, Duke owns 18.5 million square feet of bulk industrial space—the most of any market. Its properties include AllPoints Midwest in Plainfield and AllPoints at Anson inWhitestown, both partnerships with Browning Investments, in addition to Lebanon Business Park.
The 1.2-million-square-foot Parkwood Crossing at Interstate 465 and North Meridian Street is Duke's largest area office park and consists of eight buildings developed from 1990 to 2005. The park is 96 percent occupied, according to IBJ statistics, and tenants include Katz Sapper & Miller LLP, Pearson Education and Teradata Operations.
Hamilton Crossing on North Meridian stretches from Carmel Drive north to 131st Street and contains five buildings totaling nearly 548,000 square feet. They're nearly fully occupied by tenants that include Adesa Corp. and Byrider Franchising Inc. Duke began developing the office park after starting Parkwood Crossing.
The six-building Woodland Corporate Park, now called Interactive Intelligence Park in deference to the park's largest tenant, sits along I-465 near West 71st Street and is 97 percent occupied.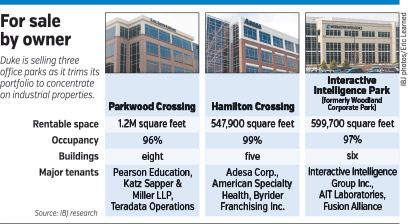 The park includes a new, three-story building totaling 112,500 square feet that Duke developed for Interactive Intelligence Group Inc. as part of a major expansion. The Indianapolis-based software developer already occupied nearly 300,000 square feet in four nearby buildings. Other tenants at the park include Fusion Alliance and AIT Laboratories.
High occupancy and visibility should make the three parks attractive to potential buyers, said Mike Wells, president of REI Real Estate Services, whose office is between Parkwood and Hamilton Crossing.
"They're premier suburban properties," he said. "The timing is very good, and I think [Duke] should get very good pricing."
Duke hopes the three properties will be snapped up quickly enough to enable the company to exit the office market by the end of the year.
"They're Class A properties in the best locations," Podell said. "There will be a lot of demand for them."
The local offices of CBRE and Jones Lang LaSalle are listing the properties. CBRE is listing Hamilton Crossing and Interactive Intelligence Park and Jones Lang LaSalle is handling Parkwood Crossing.
Duke's intent to sell the local properties follows a string of deals it's completed in other markets to pare office properties from its portfolio.
The company completed $108 million in office building sales in the fourth quarter and $1.8 billion for the entire year, Duke said in its latest earnings report. Transactions in the quarter included 13 suburban office properties, with the largest a five-building, 728,000-square-foot office park in Cincinnati.
Duke's renewed focus on industrial properties comes as the company transitions into new leadership. Dennis D. Oklak stepped down as Duke's CEO at the end of last year and has been replaced by James B. Connor, who previously served as chief operating officer.
Shares of Duke are trading at about $20 each, up from a 52-week low of $17.61 in August.•