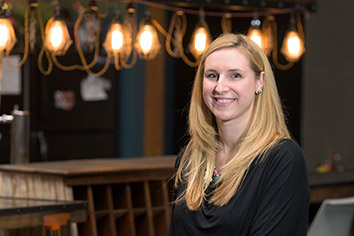 The Speak Easy, a 4-year-old co-working space near Broad Ripple that's become one of the most popular entrepreneurial hubs in the region, is gearing up to expand downtown.
For years, the not-for-profit has aided startups of all stripes, including budding tech outfits, young marketing agencies and two-person law firms. It intends to keep that going, but it's looking to open a second outpost called The Speak Easy Downtown to accommodate larger, more mature startups.
The new space should be about twice the size of the current 4,000-square-foot operation on Winthrop Avenue, and it'll have a more polished look and more business amenities.
The biggest difference between the existing and the new space is that the downtown spot will allow companies to lease short-term, fractional space on a floor—or lease an entire floor. Such flexible offerings are rare in this market, observers said, but are widely coveted by startups entering expansion stage.
"The current Speak Easy is a great place to come up with ideas, to nurture ideas and to build prototypes to validate those ideas," Executive Director Danielle McDowell said.
"But when companies get past that validation point and they're ready to start hiring teams to expand, The Speak Easy doesn't have as much of an opportunity to help those entrepreneurs."
McDowell said the terms of the downtown location have not been finalized, but officials are eyeing a multistory building in Market District "not far from Monument Circle."
It's slated to open this summer.
The expansion plan signifies the beginning of the next chapter for The Speak Easy, which has graduated more than 170 companies—representing 1,000 jobs today—and has garnered national attention along the way.
The organization, known for its rustic decor, beer and couches, has more than 300 members. It generated $98,900 in revenue in 2013, the last year of available data.
The expansion also marks the biggest initiative for McDowell since she took the reins last August from the organization's first chief, Denver Hutt, an impassioned, well-connected 28-year-old known for building The Speak Easy into an entrepreneurial destination.
Hutt passed away last month after a battle with ovarian cancer.

Clark
"The whole goal is to remove barriers to help companies accelerate quicker, better, faster," said Andy Clark, co-founder and chairman of The Speak Easy board.
"We've helped to generate a lot of early-stage companies … but as soon as they've jumped out, they started to get a whole new list of problems—most notably, place."
The next phase
The idea for a location that serves what McDowell called second-stage startups took off last fall when Speak Easy leaders garnered feedback from alumni companies about challenges.
Landing real estate was a frequent pain point. These companies, usually with headcounts near 10, often have misgivings about signing multiyear leases because they're not sure if they're going to need more or less space.
Upper Hand Inc., a sports-management software firm formerly known as Booka-coach, had such misgivings. When the company graduated from The Speak Easy in early 2015, it spent two months office hunting before it secured a rare month-to-month lease near Meridian and Vermont streets.
"In the commercial real estate space, three years is a lifetime for a young company," said Myles Grote, Upper Hand's chief revenue officer, noting that it's tough to find space that carries anything shorter than three-year leases.
"Your growth numbers might look good, but things can always change, so for me to sign a commitment like that was just not prudent to our investors at that point."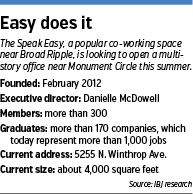 The Speak Easy Downtown will allow fledgling companies to purchase only the space they need, McDowell said, and have the flexibility to scale that space up or down every month.
The not-for-profit will charge by the desk, with undesignated "remote" desks costing about $350 a month and designated desks costing about $600 a month.
The Broad Ripple location's main seating options include tablet-armed lounge chairs and community tables.
Members will have access to undesignated community space at both locations for $50 a month.
But the downtown location will have new features including skinny rooms for phone calls, and the entire facility will have a more sophisticated, polished feel.
"At the current Speak Easy, the space really reflects what it looks like to bootstrap—you likely don't have access to the best of the best yet," McDowell said.
"These second-stage companies need this next level of sophistication, more refined edges, if you will."
McDowell noted that the new outpost still will offer coffee, water, tea and beer.
Finding funding
The Speak Easy still has a lot to work out, including the location and cost—if any—for member parking. Parking is free at the Broad Ripple location.
The organization is also working to finalize three so-called founding partners, which are local organizations that will invest money to fund the buildout of the new location and to run programs. McDowell said she's looking to raise about $500,000 from these entities.

Banner
The Speak Easy was founded in 2012 by Clark and local tech luminaries Jeb Banner, Andy Castor and Kristian Andersen.
Banner said discussions about a second location first surfaced a few years ago, but board members decided to table those talks and focus on growing one location. Along the way, it expanded its mission to attract more than just tech entrepreneurs.
Banner said entrepreneurial real estate challenges have been brewing for years, and the organization's leaders decided after a leadership retreat last fall to help mitigate the problem by opening a new space.
He acknowledged that plenty of startups have succeeded without an operation that provides flexible real estate, but he doesn't believe offering one will handicap them.
"I think there are so many natural, environmental challenges facing a business that removing a couple obstacles is not going to weaken the business fundamentally. It's going to empower them to solve the real problems they're built to solve," he said.
"The real estate side of your business should not be where you should spend your time and energy. It should be your customers and your employees," he said. "Removing obstacles that are not core to their business, to me, is not a crutch; it's an accelerant."•
Please enable JavaScript to view this content.