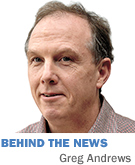 Carrier Corp. is getting pummeled in the court of public opinion these days, thanks to its recently announced decision to shutter its 1,400-employee furnace factory on Morris Street and move operations to Monterrey, Mexico.
To be sure, it sounds cold-hearted to swap out Indianapolis workers making $23 an hour for Mexican workers who might earn one-quarter of that.
Yet John Weber, then the CEO of Pendleton-based Remy International Inc., exposed a nugget of truth a few years ago when he told IBJ: "When someone finds me a customer willing to pay more money for a product made in Pendleton, Indiana, I will be glad to put a facility in Pendleton, Indiana. But I haven't found that customer yet."
Weber had just wrapped up a retooling of the auto-parts maker that closed 14 facilities, cut employment 50 percent, and shifted nearly all the company's manufacturing to such low-cost countries as Brazil, China and Mexico.
In a statement, Chris Nelson, Carrier's president of HVAC systems and services in North America, said his company's move stemmed in part from "the continued migration of the HVAC industry to Mexico, including our suppliers and competitors." Indeed, news stories document that a number of Carrier rivals, including Trane Inc., have moved HVAC jobs from the United States to Mexico in recent years.
It all has a familiar ring to Dave Arland, who rose through the management ranks of Thomson Consumer Electronics, parent of RCA, from 1991 to 2007—a span that saw TV manufacturers abandon the United States in favor of Mexico.
Thomson was one of the holdouts and, as of the early 1990s, it had about 8,000 Indiana employees spread between Marion, Indianapolis and Bloomington. It closed its final Hoosier factory—a plant in Bloomington that once was the world's largest TV plant—in 1998.
"Thomson was very likely the last domino to fall," said Arland, who now runs his own communications firm. "By the time it made the decision to close in Bloomington, everyone else had moved to Mexico already and was taking advantage of low labor rates."

Tatikonda
Mohan Tatikonda, a professor of operations management at the IU Kelley School of Business, said that, from about 2002 to 2011, he would take graduate students on tours of the Carrier plant and interact with management.
"As I reflect on it, it is almost surprising they have stayed so long," Tatikonda said.
That's not a slam on management. In fact, he was impressed by the steps Carrier took to improve efficiency at the factory, which dates to the 1950s.
That included instituting lean manufacturing practices that allowed workers to build more products faster in less space—reducing inventories and freeing up room to transfer work from other factories into the Indianapolis plant.
It's also not a slam on the viability of U.S. manufacturing. Manufacturing in the United States remains robust, he said, but is best suited for industries with high profit margins—such as pharmaceuticals and medical devices—as well as fields with lots of product customization and specialization.
It's tougher sledding making large quantities of nearly identical highly price-sensitive goods, he said, "where you are trying to squish out every cent" in labor costs.
"For companies that are going to compete on low-margin, commodity-type products," he said, "it is just not possible."
The big picture
All the Carrier-layoff headlines in recent weeks might lead Hoosiers to suspect manufacturing employment in Indiana is in a tailspin, but that is far from accurate.
Huge gains in productivity have driven down employment, but Indiana remains the most manufacturing-intensive state in the country. Manufacturing employment in Indiana was 519,700 as of December 2015, according to the Bureau of Labor Statistics.
Employment peaked at about 756,000 in 1973. It stood at 550,000 just before the Great Recession hit and slumped as low as 425,000 in the depths of the global crisis.
"Manufacturing is not in decline, but the size of the manufacturing workforce is in decline," Tatikonda said.
For all of IBJ's previous coverage of Carrier's planned move, click here.
Please enable JavaScript to view this content.