The local Katz Sapper & Miller LLP accounting firm has lured a top official from the Indiana Economic Development Corp. to its growing real estate consultancy.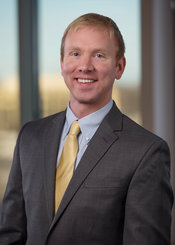 Garth Brazelton, former director of the agency's operations and business systems, joined KSM Location Advisors on Feb. 15 as its chief operating officer. The 36-year-old had been at IEDC since 2005, rising from his original role as a financial analyst.
Brazelton is the second major hire KSM Location Advisors has landed in the past year. Katie Culp, a local economic development veteran, joined the group in March from DTZ (now Cushman Wakefield).
Throughout her career, Culp, along with KSM Location Advisors CEO Tim Cook, worked with Brazelton while representing clients seeking incentives to expand or locate operations in the state.
Brazelton credited Cook and Culp in his decision to make the leap.
"I worked with them for years in my capacity at IEDC, albeit on the other side of the table," he said. "I admired their engagement of economic development policy. Their passion that came from that was very admirable to me."
Brazelton earned an economics degree from Purdue University and a master's in economics from IUPUI.
He spent a year as a staff economist at John A. Volpe National Transportation Systems Center in Cambridge, Massachusetts. The Indiana native returned to the state in 2005 to join IEDC. There, he researched and negotiated business development and tracked whether companies were complying with incentives agreements.
Brazelton also taught macroeconomics at IUPUI from 2006 to 2014.
At KSM Location Advisors, Brazelton will lead business development efforts as the group continues on its quest to grow.
"Every deal that came out of the IEDC over the last several years, he would anoint those deals," Cook said of Brazelton. "To have somebody with that skill set, and him being an economist, there's really not anyone like this in the country that we could have brought on."
At DTZ, Culp counseled clients ranging from small, private firms to Fortune 500 companies in 46 states. Her arrival at KSM helped broaden its scope from the Midwest to the nation. Since 2014, the group has closed more than 150 deals across the country, including more than 100 in Indiana.
Meantime, the group's headcount has grown from about six to 13. The team includes three attorneys and three accountants, two holders of master's of business administration degrees, and the former lead commercial property tax assessor and appraiser for Hamilton County.
Katz Sapper is the area's second-largest accounting firm based on number of employees, according to the most recent IBJ statistics, trailing only Ernst & Young LLP.
Brazelton had spent his entire career in the public sector and is looking forward to the change.
"Part of it, for my own personal growth," he said, "is that I felt like I needed to experience the private sector."
 
Please enable JavaScript to view this content.