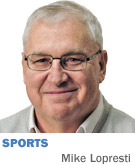 With basketball sectional time at hand, consider the plight of the Warren Central Warriors. They're good enough to be ranked No. 21 in the entire state in the Sagarin computer rankings.

And last in their own sectional.

Welcome to good ol' Sectional 10. The shark tank of the Indiana state tournament. Six teams, all in the top 21 of computer rankings, five of them in the top 16 of the most recent coaches' poll, crowded into the same bracket at Arsenal Tech. A six-pack of power.

How to describe such a sectional? Let's go around the coaches' room.

"Brutal. If you don't like a challenge, you'd better not coach here," North Central's Doug Mitchell said.

"I would be hard-pressed to find a harder six-team tournament in the United States. It's just ... crazy," Tech's Jason Delaney seconded.

"I've never seen a sectional with the amount of depth this one has," Cathedral's Andy Fagan thirded.

"No easy game out there. That's just the way it is," Lawrence Central's Al Gooden fourthed.

"Someone made the comment the other day, I think it was on TV, that if college coaches could just recruit this sectional, they would never get fired," Warren's Criss Beyers' fifthed.

"Ridiculous," Lawrence North's Jack Keefer sixthed.

How brutal?

Through Feb. 24, the six teams had only 34 losses among them—and 13 of those were to one another. Against the rest of the world, Sectional 10 was 84-21.

How crazy?

By the end of the first night, after Tech has played Lawrence Central and North Central has met Cathedral, two of the top 16 ranked teams in the state are sure to be finished, via Sectional 10 fratricide. At least four by Saturday night.

How deep?

In the latest computer rankings, the field went North Central (2), Lawrence Central (5), Lawrence North (6), Cathedral (12), Tech (13) and Warren (21). The six coaches own nearly 1,900 wins among them. Four—Keefer, Mitchell, Delaney and Gooden—have won a combined nine state championships.

How devoid of easy games?

In the 13 regular-season meetings between teams in this sectional, 11 were decided by single digits. Five by one or two points.

How recruit-rich?

Future students at Virginia (Lawrence Central's Kyle Guy), Florida State (Tech's C.J. Walker) and Morehead State (Cathedral's Jordan Walker and Lawrence North's Djimon Henson) will be in uniform. As will the still-uncommitted Eron Gordon from Cathedral. As will the state's top junior prospect, North Central's Kris Wilkes.

How ridiculous?

In other words, can a sectional be too crammed with juggernauts, too lopsidedly powerful? Should the IHSAA do a balancing act in assigning teams? This one sectional accounts for six of the past 17 4A state champions.

Keefer has been around the block a few times in 44 seasons. He thinks so.

"It's just terrible. There's going to be three or four great teams sitting on the bench. It's got to hurt the dollar value eventually. Good teams bring crowds; bad teams don't bring crowds. So you've just eliminated good teams.

"We screwed up the tournament in the first place by putting class basketball into it. So why don't we screw it up again and put seeding in it and make it a good tournament? It's really a shame. But I don't think it's going to get changed, so I can't worry about it."

Delaney, too. "Personally, I would like to see some change. All the great teams in the state shouldn't eliminate each other the first week of the tournament."

Not much to do about it, though, except be philosophical.

Fagan: "When you win, it makes it that much more special knowing that you really accomplished something."

Gooden: "To be the best you have to beat the best, anyway. That's up to the IHSAA. All I can do is just play the game. If they go to the next level and play in college, it's going to be like that."

Mitchell: "I think if the NCAA Tournament did it this way, they wouldn't be the fan darling they are. But I'm a Hoosier at heart. I grew up on a farm in Arcadia, and our deal was, we had to go down to Carmel and beat Carmel, when I was at Hamilton Heights. I'm fine with the way it is. But if somebody came up with a method to seed the whole thing, I wouldn't be opposed to that, either."

Nothing to do, then, but enjoy the spectacle of a no-mercy sectional.

"This is a state championship all in itself," Delaney said. "As a competitor, it's the greatest stage you could ever ask for."

Fagan talked of embracing the task as it comes. "You treat it one day, one game at a time. You can't look at the totality of it."

Same for Mitchell. "You start thinking anything past that, then you're going to be in trouble. And at the end of the day, they've got to play us, too."

Back to Warren Central. The Warriors seem the poorer cousins in this gang with a 10-11 record, and an 0-5 record against the other five teams. "I'm sure they were hoping they all drew us," Beyers said.

But, wait. Nine of their 11 defeats were by teams ranked in one poll or another, and eight were by five points or less.

And that, statistically, is the worst team in the field?

"With our schedule, there are really no nights off. Our schedule prepares us for the sectional," said Warren's first-year coach. The Warriors will play the Cathedral-North Central winner Friday, and they're dangerous.

So there is no safety in Sectional 10. Not anywhere.

"It's March, baby," Mitchell said. "Here we go."•

__________

Lopresti is a lifelong resident of Richmond and a graduate of Ball State University. He was a columnist for USA Today and Gannett newspapers for 31 years; he covered 34 Final Fours, 30 Super Bowls, 32 World Series and 16 Olympics. His column appears weekly. He can be reached at mlopresti@ibj.com.