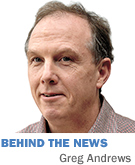 Indiana is no oil patch. So it's easy to think of the collapse in oil prices as causing chaos only in faraway places like Oklahoma and Texas.
But don't tell that to the top brass of Indianapolis-based Calumet Specialty Products Partners, which from its headquarters on the northwest side is trying to manage through a nearly 70 percent drop in its stock price over the past year and growing concern in the investment community that it will have to chop its rich quarterly cash dividend.
The stock price has fallen so far that the annual dividend yield is a whopping 28 percent—one of the highest in the country. That's a great deal if the company can continue scraping up enough cash to pay it. But analysts are increasingly doubtful and say a cut might be in the offing.
All the moving pieces are creating plenty of challenges for the company's new CEO, Timothy Go, who is trying to win back investor confidence after prior management went on an acquisition and expansion spree that ratcheted up debt and heightened the company's volatility.
"While I'd hoped for a warm welcome, the past two months have more closely resembled a trial by fire," Go said on a conference call Feb. 17, 50 days after joining the company as CEO.
He added: "One of the key lessons my three decades in the energy industry have taught me is to manage businesses with a long-term investment horizon in mind, while adapting to near-term market realities that mitigate risk."
While Calumet may not be well-known locally, it's actually a colossus—one of just four central Indiana companies on the Fortune 500. It employs more than 2,200 and had 2014 revenue of $4.2 billion.
The company stays below the radar because most of its refineries and other operations are elsewhere in the country, including Louisiana, North Dakota and Texas. The outposts churn out vehicle and jet fuel, along with solvents, waxes and other specialty petroleum products.
Calumet is far from alone in the oil business in nursing bruises these days. All management teams in the industry have been knocked off stride by the loss of pricing power stemming from the crude oil glut. Because of oversupply, since June 2014 West Texas Intermediate, a popular benchmark, has tumbled from $109 a barrel to $31.
But on the conference call, Go said some of the company's problems were of its own making.
"During the past five years, we have invested approximately $750 million in growth projects and joint ventures that have a total anticipated return of approximately $100 million," he said. "From my vantage point, these projects were challenged in several regards, although I have the benefit of hindsight."
Indeed, one of the doozies was forming a joint venture that built a $430 million North Dakota refinery—the first new refinery in the United States in seven years. The idea was to churn out the expensive diesel that nearby shale producers needed to power their equipment.
Trouble was, between construction in 2014 and opening in May 2015, the shale boom went bust.
"The last thing you want to be doing right now is running a refinery that makes a lot of diesel and very little gasoline," Robert Campbell, head of oil products research at Energy Aspects Ltd., told Bloomberg News last month.
"It's a double whammy," he said, as the global diesel market weakens and local demand from frackers plunges.
The aggressive expansion has left Calumet with a hefty $1.7 billion in debt. Meanwhile, it must allocate $210 million a year to make good on its dividend.
Supporting both could be tough, especially given signs of recession on the horizon, which would worsen the oil glut, analysts said.
"It is natural as the business cycle progresses to start getting concerned about a domestic recession, and the risk of a China hard landing is real," Credit Suisse analyst Johannes Van Der Tuin said in a report.
Go told analysts that the company is committed to doing more with less after losing $139 million in 2015.
Part of his turnaround plan involves focusing more keenly on the company's specialty products division. The division includes branded products like TrueFuel—a premixed blend of fuel and lubricants for power equipment—and Royal Purple, a line of motor oil for marine, motorcycle and racing uses.
"In a specialty business, the products being produced are fungible," Go said. "They aren't commoditized. They have some unique aspect that customers are willing to pay a premium for. It is these types of businesses where Calumet will focus its attention moving forward."•
Please enable JavaScript to view this content.