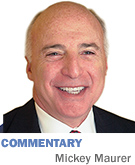 "I don't want to make any money, folks; I just love to sell guns."

Don Davis

Our community lost the last and, by many accounts, the most flamboyant of three of this century's most fascinating pitchmen with the recent death of Don Davis. Ed Clark, Bob Catterson and Don Davis could sell water wings to Mark Spitz.

In the 1950s, Clark, the used car king, used a pet monkey and straight man Gene Allison to pedal jalopies on the late night TV movie show. Clark marked cars and numbers on a chalkboard and Allison slashed the prices amid Clark's feigned protests. Clark would moan, "Don't schnide me, Gene." Customers flocked to Clark's lot on East Washington Street impelled by his favorite expression, "Da king don't care." The movie became irrelevant. People tuned in for the commercials.

Ex-dance teacher Bob Catterson earned his chops at Charlie Stuart Oldsmobile. His TV patter was so successful he made commercials for car dealers throughout the country. His shtick was irresistible, "Nobody can beat a Bob Catterson price. Noooooooooooobody."

Clark and Catterson were masterful, but Don Davis was the magician. Davis punctuated his famous quote with a big grin and an infectious laugh. That delivery was contagious and it sold guns–lots of guns. Don's Guns, located at times in Greenwood, North Keystone Avenue and Lafayette Road, became one of the largest independent gun dealers in the country.

Davis crowed that he was just a poor boy from Kentucky. He served in the Korean War and later worked as a bouncer at Nick & Jerry's bar and as an organizer for the Teamsters, where he became an aide (enforcer) to Jimmy Hoffa.

Contrary to his pitch, Davis did like to make money–and spend it. He lived large, drove a souped-up fast and fancy Corvette, owned the largest house in his south side neighborhood and indulged his hobbies of hunting and fishing. But there was always something left for his community.

More than 10 years ago, Davis read a column I wrote advocating that businesses purchase external defibrillators in an effort to reduce the approximately 325,000 people in this country who die from sudden cardiac arrest each year. He responded by presenting Johnson County a blank check to purchase defibrillators for every squad car.

Don could be combative. When he felt IBJ did not adequately publicize his defibrillator contribution, he sent us a letter that closed, "It's called what goes around comes around. Cancel my subscription and don't ever send anything to Don's Guns or Don Davis."

I responded with a luncheon invitation and there began a wonderful friendship. I gave him my latest book and he gave me a copy of "Hoffa Wars" and shared a number of yarns about those days. In his thank you letter he said, "… from a kid working on the truck docks by the day so I could pay my $3 per day sleeping room, to the American dream. We traveled different roads to end up in the same place, only in America."

When Indiana considered legislation legalizing the sale of guns at gun shows and allowing pardoned felons to carry hand guns, Davis fought hard against it. He said, "I'm full of baloney, I admit it, but I know what the general public wants and it wants more restrictive gun laws." He added, "The Legislature does not know what it's doing. Guns should not be as available as popcorn or a loaf of bread. Hand gun permits are so bad in the state of Indiana, it's unbelievable. I know of a blind man who has a hand gun."

Clark and Catterson were remarkable, but Davis could out-circus Barnum & Bailey. He was energetic, animated—and always entertaining. When Indiana looks back during its bicentennial year, we should celebrate the lives of our extraordinary Hoosier hucksters, Ed Clark, Bob Catterson and my friend Don Davis.•

__________

Maurer is a shareholder in IBJ Corp., which owns Indianapolis Business Journal. His column appears every other week. To comment on this column, send e-mail to mmaurer@ibj.com.