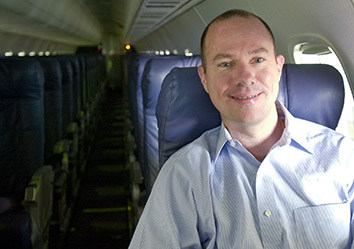 Indianapolis-based Republic Airways Holdings Inc. filed for bankruptcy protection Thursday in New York, saying it will continue business as usual as it works to restructure its finances.
The first large U.S. airline bankruptcy since American Airlines filed in 2011 comes at a time when major carriers have been reporting record profits for at least two years.
Republic operates a fleet of under-80-seat planes, which provide flights for larger airlines including American Airlines Group Inc., Delta Air Lines Inc. and United Continental Holdings Inc.
The company in October announced that a majority of its 2,100 pilots had approved a new three-year contract that significantly raised their compensation—a
watershed event
that ended a years-long labor dispute that threatened to put it out of business.
But that deal
was just the first step
in digging itself out of financial distress—trouble exacerbated by a severe pilot shortage that left the company struggling to fulfill its flight schedules.
Republic's next move was to go to the Big Three carriers and attempt to negotiate new deals that lightened its flying load and helped fund the $40-an-hour starting salary it now pays pilot hires—the new top in the regional industry.
The company, which has 240 jets and about 1,250 daily flights, also had been working to remove 50-seat Embraer jets and Bombardier Q400 turboprops from its fleet as airlines shift to larger, more efficient regional jets. 
"We worked hard to avoid this step," Republic CEO Bryan Bedford said in a statement Thursday afternoon. "Over the last several months, we've attempted to restructure the obligations on our out-of-favor aircraft—made so by a nationwide pilot shortage—and to increase our revenues. It's become clear that this process has reached an impasse and that any further delay would unnecessarily waste valuable resources of the enterprise.
"Our filing today is a result of our loss of revenue during the past several quarters associated with grounding aircraft due to a lack of pilot resources, combined with the reality that our negotiating effort with key stakeholders shows no apparent prospect of a near-term resolution."
In its filing in bankruptcy court in Manhattan, Republic listed $2.97 billion in liabilities and $3.56 billion in assets.
In the after-hours market Thursday, Republic's stock, which closed regular trading at $3.44, plunged to 89 cents, as investors panicked that a restructuring would wipe out shareholders.
Bedford had made clear after the contract ratification last fall that Republic was not out of the woods and bankruptcy remained an option if the company could not renegotiate agreements with the Big Three.
Out of the gate, Republic was on shaky footing with Delta, which sued the company on Oct. 5, accusing it of breach of contract for not fulfilling its flight schedule for Delta and costing the airline "millions in lost profits."
Republic, which operates 71 regional jets for Delta Connection, called the allegations "unfounded and without merit." It said its contracts allow it to recover about one-third of the higher labor costs, and that it would ask some airlines to pay more than they are contractually obligated to pay.
Dan Akins, a Golden, Colorado-based aviation consultant, said that if Republic was struggling to get the Big Three to pay its higher fees, it may have turned to bankruptcy court to force their hand.
"It's not the preferred path, and I know they did not want to do it," said Akins, who was involved in the negotiations last summer between the International Brotherhood of Teamsters, which represents Republic pilots, and the company.
In bankruptcy, Republic could ask a judge to cancel unprofitable contracts without the penalties that would be imposed without court protection. The filing also will allow the company to escape leases for planes it's not flying or that are too costly.
Republic isn't the only regional carrier that has struggled since 2013, when Congress imposed a mandate requiring more flying hours before commercial pilots can take the controls. Lawmakers were driven to the new flight-hour rules by the 2009 crash of a Colgan Air regional flight near Buffalo, New York. That case revealed lapses in the pilots' training and rest before the flight, and shocked many with the low pay endemic in the regional industry.
Bedford said last fall that the big carriers and cargo airlines have hired pilots away from regional carriers, worsening the shortage.

In a statement after Thursday's bankruptcy filing, Bedford said an orderly, court-supervised restructuring was in the best interests of Republic, its 6,000 employees and its passengers.

"We believe this action will allow us to restore our airline and take it to new heights," he said.
Please enable JavaScript to view this content.