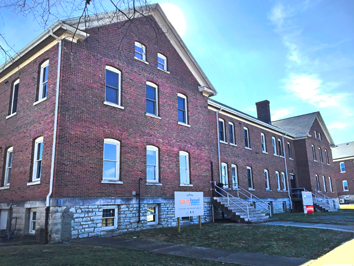 The small architectural firm of Curran Architecture is the latest arrival to the former Fort Benjamin Harrison, where efforts to return the sprawling property to a hub of activity continue to take shape.
Curran Architecture moved Feb. 15 from traditional office space at East 96th Street and Masters Road near the Indianapolis Metropolitan Airport to a more than century-old building in the heart of the grounds.

Shawn Curran
The building, which sits along a row of similar-looking two-story brick structures on Lawton Loop East Drive, was constructed in 1908 and served as barracks for enlisted soldiers before the fort's 1996 decommissioning.   
Curran Architecture more than doubled its old space by taking 3,700 square feet on the second level. The first floor is occupied by Springboard Marketing and Porter Books & Bread.
The firm scouted a handful of other locations, but none could match the character that the historic Fort Ben building offers. During renovations, firm President Shawn Curran even found about a dozen .22 caliber shell casings that had fallen through the rafters of the attic above, where soldiers once took target practice.
"Everybody kind of gravitated toward this building, because of the feel of it," Curran said. "A lot of them hadn't been out here, so they really didn't know what to expect."
He founded the firm in 2003 after spending a total of 11 years at two other firms. It has nine employees, including three registered architects and two graduate architects.
Curran Architecture has designed a host of projects across a spectrum of industries. One of its latest is a 25,000-square-foot retail development consisting of four buildings to be constructed by Republic Development Corp. near the Cabela's at Hamilton Town Center.
The firm's new space features original windows and exposed brick walls and ceiling pipes, which already were in place before the firm relocated.
"A lot of times you'll pay a lot of money to get that look," Curran said.
Several buildings to the north, near the immense parade ground, have been converted to condominiums, as the Fort Harrison Reuse Authority works to bring more housing to the property.
East of Post Road and north of Otis Avenue, David Weekley Homes is building 74 houses on nine acres. The Houston-based homebuilder broke ground last March and has started or completed construction on 15 of them. The homes start at $210,000 and range in size from 1,790 square feet to 2,400 square feet.
To the east, Carmel-based J.C. Hart Co. built the 224-unit Fort Apartments that it since has sold to Cincinnati-based Ackermann Group. Ackermann now plans to build 101 additional units on ground near the existing apartments that fronts East 56th Street, said Freddie Burrus, the reuse authority's executive director.
"That's what is making people come," Burrus said, pointing to Fort Harrison State Park, the Fort Golf Course and the YMCA on a map in his office.
It also doesn't hurt that more retail options are sprouting up. Triton Brewing Co. opened at 5764 Wheeler Road in September 2011, and Jockamo Upper Crust Pizza began serving customers in May from its space in a 36,000-square-foot office and retail building constructed along East 56th Street.
The authority ultimately hopes to lure a grocery store to the area, Burrus said.
 
Please enable JavaScript to view this content.